Our Vietnam travel guide provides some more information about the country, useful information for travelers before travelling to Vietnam include borders, airports in Vietnam, transportation, customs, health, shopping, safety and weather.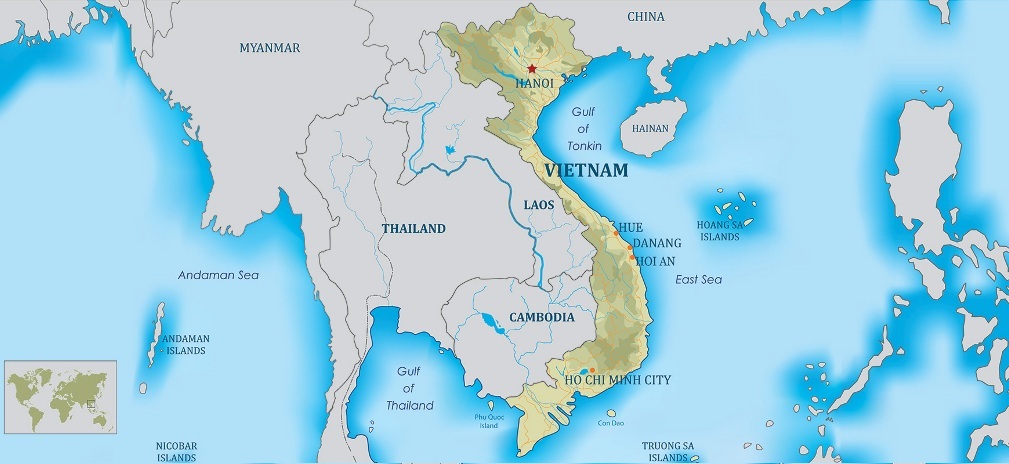 Vietnam is an exotic destination with magical islands set in pristine waters, historic and religious sites, including temples, pagodas and churches, and a rich culture based around strong traditions.
Nowadays, Vietnam has opened its doors and is well-known for beautiful scenery, diverse cultures, friendly and hospitable people. Moreover, Vietnam is always the safest destination in the world where you can witness the World Heritage sites including Complex of Hué Monuments (1993), Ha Long Bay (1994), Hoi An Ancient Town (1999), My Son Sanctuary (1999), Phong Nha-Ke Bang National Park (2003), Central Sector of the Imperial Citadel of Thang Long - Hanoi (2010), Citadel of the Ho Dynasty (2011).
Vietnam is an experience of Asia like no other. Hanoi, the capital, surprises you with architecture reflecting Vietnam's long history with influences as near as China or as far as France. Ho Chi Minh City (formerly known as Saigon) overwhelms you with its sheer human energy. Hue, the old imperial capital, conjures up vibrant images of an exotic past. Long sandy beaches meet majestic mountains in Central Vietnam and Halong Bay has stunning landscapes.
Perhaps, most of all, you will remember the smiles of welcome, the invitations to "drink tea" and the bright eyes of the young children growing up in a peaceful Vietnam.
Whatever your interest may be, we assure you that traveling with Go Viet Travel to explore Vietnam's hidden treasures will surely be an impressive trip.
WHEN TO GO TO VIETNAM?
Vietnam's weather varies greatly from north to south with each area marked by slightly different seasons and climates. Because of these regional variations, a part of the country is seasonable at any time of year.
The north, overall, tends to be cooler than the rest of the country. During the winter, from November until February, the day time temperature is pleasantly cool and the weather is often damp. To the far north in places like Sapa, there is occasionally freezing temperatures during this time. The north begins to warm up in March and stays dry and warm until May. From June to October, the north is hot and rainy making it a fairly unpleasant place to travel. Overall the best time to visit the north is from November until April.
Central Vietnam experiences warm weather from July to October and wet, colder weather from November to May. Frequent typhoons hit the central coast from August to October which can cause flooding and disrupt travel plans.
Although the temperature remains fairly steady throughout the year, Southern Vietnam has two seasons. The dry season lasts from December to May, while from May to November is the rainy season. Most of the rain is in the afternoon and only lasts a short time so it is unlikely to disrupt touring plans.
Unless you intend to visit friends, relatives or your family, we do not recommend visiting Vietnam during the Lunar New Year or Tet holiday (Vietnamese New Year falls between late January and February). Tet is the most important period of the year for many Vietnamese who take time off to visit their families in the countryside. All hotels, buses, trains and flights are full, and there is almost no activity in the markets and shops. Lots of restaurants and tourist sites are closed. Some hotels and restaurants are under-staffed and in some cases the quality of the service may suffer. This period of reduced activity may last from a week before and a week after the Tet period. It is also impossible to get a "visa authorization letter" processed during this period.
FOOD IN VIETNAM
Vietnamese cuisine comes as a pleasant surprise to many visitors and is definitely a part of the Vietnam experience not to be missed. One of the characteristics of Vietnamese food is that it is always bought fresh from the market the same morning. Food is usually prepared with a minimum of oil and served with the ubiquitous fish sauce called "nuoc mam". Typical Vietnamese dishes you can expect to try include pho, a type of rice noodle soup eaten for breakfast, cha gio, deep-fried spring rolls and goi ngo sen, a delicious salad made with lotus stems, shrimps and peanuts. Due to the strong Buddhist influence in Vietnam, vegetarian food is widely available.
ARRIVAL IN VIETNAM
BY AIR: Consult your local travel agent for routings, fares and availability on flights to Vietnam. Discount websites and flight search engines may offer some good deals. Major airlines flying to Ho Chi Minh City or Hanoi include: Vietnam Airlines, Air France, United Airlines, Lufthansa, Thai Airways, Qatar Airways, Bangkok Airways and many more. Major airlines flying to Danang International Airport include PB Air from Bangkok and Silk Air from Singapore.
BY LAND: Vietnam shares a border with China in the north (three border crossings), Laos in the west (three border crossings) and Cambodia in the south-west (three border crossings).
- From China: Trains from Beijing to Hanoi pass by Nanning and Pinxiang in China and enter Vietnam at Dong Dang (north of Lang Son). There is also a road crossing know as Huu Nghi in Lang Son province. Trains coming from Kunming cross the border at Lao Cai, in northwest Vietnam. From Guangzhou, you will cross the border at Mong Cai, a few hours drive from Halong and its spectacular Bay.
- From Laos: If you travel from Laos by road via Savannakhet and Sepon, you will get to Vietnam by the Lao Bao (Vietnam) border crossing. This crossing links Laos to central Vietnam (Danang and Dong Ha). If you travel from Vientiane, you will cross Lak Sao before entering Vietnam by Cau Treo border crossing, in Ha Tinh Province (Vietnam). The Nam Can border crossing connects Nghe An Province (Vietnam) and Xieng Khuang Province (Laos).
- From Cambodia: If you travel from Phnom Penh by speedboat, you will enter Vietnam at Chau Doc, in the Mekong Delta area. If you arrive from Cambodia by road into Ho Chi Minh City, you will enter Vietnam at Moc Bai, which connects Vietnam's Tay Ninh Province with Cambodia's Svay Rieng Province. Border crossing at Prek Chak/Xaxia (close to Kep in Cambodia and Ha Tien in Vietnam) are now possible.
NOTE: You cannot obtain a visa on arrival at land border-crossing points. If you enter Vietnam by land, you must obtain the visa before arrival.
ATMS
ATMs for withdrawing Vietnamese Dong are available in major airports, hotels, towns and capitals of provinces throughout Vietnam. Most ATMs have an English language version. Ask your tour guide for help when you need to locate an ATM.
CREDIT CARDS
Most credit cards are accepted in Vietnam. Visa and MasterCard are the most widely accepted. JCB and American Express are also accepted in some outlets. Not all hotels, commercial centers, shops and restaurants accept credit cards. Check with the cashier before making any purchases. Bear in mind that in some places a surcharge applies for credit card purchases: Visa and MasterCard charge approximately 2.2% surcharge, JCB: 2.75% surcharge, American Express: 4% surcharge.

NOTE: Surcharges can change without prior notice. Check the percentage charged before you pay.
MONEY
The currency in Vietnam is the Vietnamese Dong (VND). US Dollars and Euros are accepted in many hotels, restaurants and shops. Banks are open Monday to Friday from 08:00 to 05:00 and some on Saturday morning. In the major cities, some exchange offices open long hours near places frequented by tourists and most hotels will change US Dollars and Euros at very reasonable rates. For everyday expenses, we recommend carrying a mix of US Dollars and VND in cash. For larger items or when the exchange rate works in your favor, use US Dollars.
For cyclos, local food stalls and small purchases, it's best to use VND. In either case, make sure you always have a stock of small notes so that you don't have to worry about change.
TRAVELERS CHECKS
Banks such as CitiBank, ANZ Bank. HSBC and Vietcombank can change your travelers checks for VND or US Dollars but a commission applies (1% to 2%). Very few shops, hotels or restaurants accept travelers checks.
COMMUNICATIONS
Country Code for Vietnam: + 84
Emergency Services: Fire: 114 Police: 113 Ambulance: 115. The emergency services may not have English speaking staff. To avoid delay it may be best to seek the assistance of a Vietnamese speaker to call the emergency services.
CUSTOMS
Polite behaviour is highly valued in Vietnamese society. One of the most important dimensions of politeness is for the young to show respect to their elders. In everyday life, younger people show this respect by using hierarchical terms of address when interacting with their seniors. Younger people should also be the first to issue the common salutation chao when meeting someone older, should always invite their seniors to begin eating before they do, ask for permission to leave the house, announce their arrival when they return, and not dominate conversations or speak in a confrontational manner with their seniors.
Vietnamese life revolves around the family and it is not uncommon for up to three generations to live together in the same house.
People of different genders, especially if they are not married or related, should not have physical contact. In general woman are expected to maintain greater decorum than men by avoiding alcohol and tobacco, speaking quietly, and dressing modestly. In many public spaces, however, people often avoid standing in queues, resulting in a chaotic environment where people touch or press up against one another as they go about their business.
As with many other Asian societies, the concept of face is extremely important in Vietnamese society. It is important to be aware of unintentionally causing the loss of face so you need to be aware of your words and actions. Accusing someone of poor performance or reprimanding them in public will cause the loss of face. Complimenting them on their hospitality will give then face.
ELECTRICITY
Vietnam mainly uses 220V but in some areas, 110V is also used. A mixture of flat and round 2-pin outlets are used throughout the country. It is recommended to bring a universal plug adaptor.
HEALTH
The following information is intended as a guide only and in no way should it be used as a substitute for professional medical advice relative to a traveller's individual needs and vaccination history. No guarantee is made as to its accuracy or thoroughness. For further information, please contact your Doctor.
Vaccination against Hepatitis A is recommended for travellers to Vietnam and vaccination against Typhoid should also be considered. Depending on a traveller's itinerary and activities, vaccination against Hepatitis B, Rabies and Japanese Encephalitis may also be considered. Cholera is present in Vietnam, but immunisation is usually not recommended. Care with food and beverage selection is far more important. Malaria and Dengue Fever are present in Vietnam, as such insect avoidance measures should be taken and Antimalarial drugs may be required.
Please consult a medical practitioner or contact your Doctor for your specific risk to these preventable diseases and the appropriate avoidance measures. Foreigners travelling to Vietnam should also ensure that they have adequate travel insurance to cover the length of their stay.
LANGUAGE
The national language of Vietnam is Vietnamese. In big cities and in places with many tourists, people will speak basic English. The younger generation will be more adept at speaking English, while the older generation still speaks some French. Because Vietnamese has six different tones, it is a difficult language for most foreigners to speak despite the fact that the Roman alphabet is used in modern Vietnamese. The same word can have six different meanings depending on the tone used to pronounce it. Russian and Chinese are also spoken by some people.
SHOPPING
Vietnamese people rise early and consider sleeping in to be a sure indication of illness. Offices, museums and many shops open between 7am and 8am and close between 4pm and 5pm. Post offices keep longer hours and are generally open from 6.30am to 9pm.
Souvenirs to look out for in Vietnam include lacquerware, silk, conical hats, woodcarvings, hill tribe fabrics and handicrafts, embroidery, marble, ceramics, silver jewelry, antique watches and paintings. Ho Chi Minh City and Hanoi have the best choices when it comes to shopping but Hoi An is also a very good place to hunt for bargains.
SAFETY
Vietnam is a safe country to visit. As a global rule, never leave your belongings unattended and always maintain eye contact or a firm grip on cameras and shoulder bags. Avoid cyclos late at night and choose reliable metered taxi companies as they are really cheap and air-conditioned.
TELEPHONE
If you have worldwide coverage, you can bring your own mobile phone and use it to make domestic or international calls. Check with your mobile phone provider for the costs before using it abroad - it may be expensive. Most hotels now have IDD phones in rooms and it is possible to send faxes from hotels and post offices although these services are expensive. It may not always be possible to make international calls in remote areas.
TIPPING
Generally, tipping is not expected in Vietnam, but is always appreciated in a country where the average annual income is quite low compared to Europe for example. It is customary to tip tour guides and drivers at the end of a tour. Hotel and station porters should also be tipped. Do not let the guide talk you into tipping more than you plan to. It is totally up to you who you tip, when and how much.
TRANSPORTATION
Though still a little rough around the edges, Vietnam's transport network is continuing to improve. Most travel takes place on the roads, which are largely of decent quality surface-wise. The vehicles themselves are also pretty good, with air-conditioned coaches ferrying travellers (and an increasing number of locals) up and down Highway 1, a narrow and busy thoroughfare that runs from Hanoi to Saigon, passing through Hue, Da Nang and Nha Trang en-route. Off the main routes the vehicles are less salubrious. Trains run alongside Highway 1, and their sleeper berths are far more comfortable than buses for longer journeys. Lastly, the domestic flight network continues to evolve, and the cheap, comfortable services may save you days worth of travel by road or rail.
You must have a valid Vietnamese drivers licence to drive in Vietnam (for all vehicles, including motorcycles of 50cc or more). International Driver's Permits are not recognised in Vietnam. Non-Vietnamese citizens are only permitted to drive in Vietnam if they hold a temporary Vietnamese drivers licence. Fines for driving without a valid licence vary. For information on obtaining a Vietnamese drivers licence (including temporary licences) visit the website of Consulate-General in Vietnam.
Driving standards and vehicle and road maintenance are generally poor. Traffic accidents occur frequently in Vietnam and tend to attract large crowds. A very high number of serious injuries and deaths occur as a result of motorcycle accidents. The number of tourists involved in serious motorcycle accidents is increasing. Under Vietnamese law, you must wear a helmet at all times when riding a motorcycle, including when travelling as a passenger.
You should consider the risks of driving a car or riding a motorcycle in Vietnam, particularly if you are unfamiliar with local conditions. If you are involved in an accident, whether or not you are at fault, you could face criminal charges and may be required to make large compensation payments to the injured person.
Inter-city buses have a high accident rate. Petty theft regularly occurs on buses.
Streets are crowded in major cities and road rules are routinely ignored. Be very careful when crossing busy streets as traffic can appear from any direction.
Rail travel is generally safe in Vietnam, however petty theft can occur. We have received numerous reports of theft on sleeper trains between Hanoi and Lao Cai/Sapa. When travelling by rail, ensure you retain the ticket stub at all times as it is required upon exiting the train station.
Boats, hydrofoils and ferries in Vietnam may not meet International safety standards. Accidents on waterways do occur and there have been a number of fatalities resulting from vessels sinking, for example, in Ha Long Bay. Whenever considering travelling by boat, you should ask tour operators about the safety record and emergency procedures, and ensure there is adequate safety equipment such as life vests on board.
All airports in Vietnam require you to show your luggage tags when exiting the airport. You must ensure to keep your luggage receipt from your airline on you at all times.
DOMESTIC AIRLINES: Three domestic airlines are currently operating in Vietnam: Vietnam Airlines, Jetstar-Pacific Airlines and Indochina Airlines. Both Jetstar-Pacific and Indochina Airlines are low-cost carriers (LCC). Jetstar is a joint venture company between Qantas Australia and Pacific Air. Indochina Airlines is Vietnam's newest airline and is privately owned. All airlines are using a mixture of Boeing and Airbus planes and Vietnamese as well as foreign pilots.
AIRPORT TAX: There is a departure tax on all international flights from Hanoi and Ho Chi Minh City but this tax is already included in the price of your all airplane tickets.
WEATHER
Hanoi and the north of Vietnam have distinct winter and summer seasons. The mainly dry winter lasts from November to April with average temperatures of 18-20°C. Summer lasts from May to October and is hot and humid with temperatures around 30°C. Hue and Danang, in the center of the country, see very hot, dry weather from February to August with temperatures reaching the mid-30's°C, but can experience some heavy rainfall between September and January. Ho Chi Minh City and the south have a hot, dry season from December till April with average temperatures hovering around 28°C and a warm rainy season from May to November. In the rainy season, most rain comes in short, heavy bursts.
There is good weather somewhere in Vietnam all year round! Vietnam stretches over 2000 km from North to South. The climate differs all year round from one region to another. The North can be chilly during winter months (December to March). North and Central Vietnam can encounter tropical storms and typhoons from October to January. Overall, the north of Vietnam experiences more marked seasons than the rest of the country with two distinct seasons: wet and dry.
The South, including Ho Chi Minh City and the Mekong Delta, benefits from sunshine and warm weather all year round. However, the rainy season lasts from May to November (with showers once or twice daily in general) and a dry season from December to April. The Central Highlands can be chilly. Nha Trang has warm – sometimes hot -weather all year round, with a rainy season from the end of September until December.