Floating markets - The charm of the Mekong Delta Vietnam
The floating markets in Mekong Delta Vietnam have been existing for over 100 years, but its origin and operation remain a heated debate. It is the convergence of hundreds of thousands of large and small boats from many places to trade and exchange agricultural products, fruits, goods, and food creating a community economy on the river.
The floating markets are now a charming aspect of the local culture and one of the captivating experiences in Mekong Delta.

BEST FLOATING MARKETS IN MEKONG DELTA
There are some major floating markets in the Mekong Delta such as Cai Rang floating market in Can Tho City; Cai Be floating market in Tien Giang province; Tra On floating market in Vinh Long province; Nga Bay, also referred to as Phung Hiep floating market in Hau Giang province; Long Xuyen floating market in An Giang province but we just list 2 best floating markets worth visiting as follows:
1. Cai Rang Floating Market
Cai Rang Floating Market is located on Cai Rang River, about
6 km from the city center of Can Tho City
(the capital of the Mekong Delta) by road, and about 30 minutes by boat from
Ninh Kieu Pier
. The market was formed when road and transportation had not been developed yet. The need of exchanging agricultural products, and basic things connected local people by boats on rivers. Since then, in spite of widely developed road transportation, the floating market remains and develops more bustling.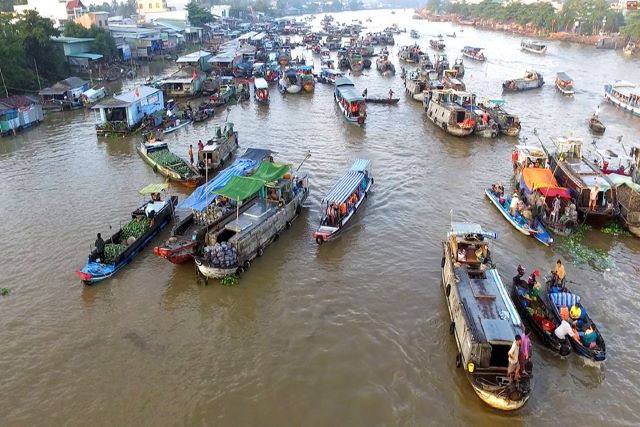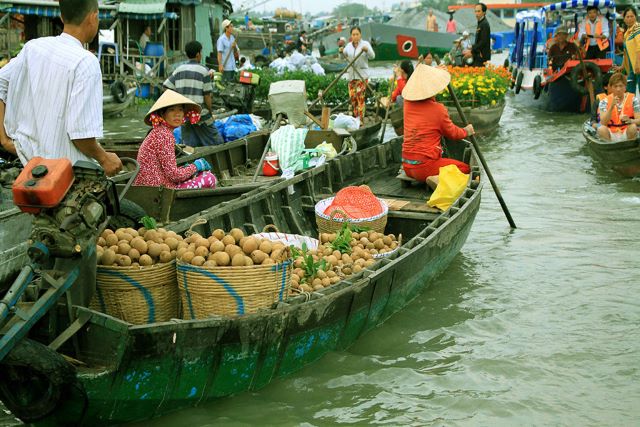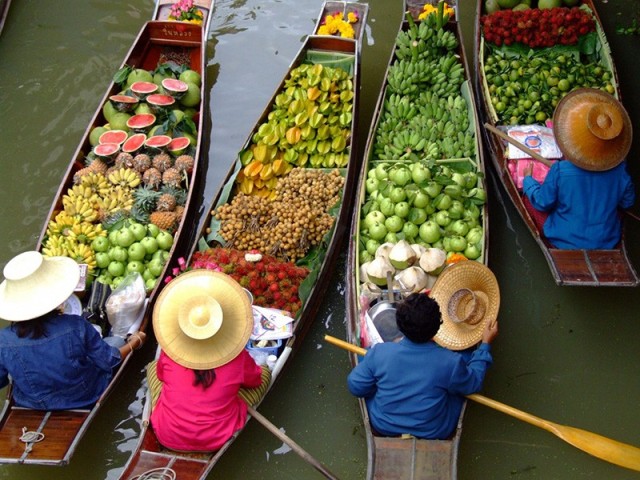 Being one of
the three biggest floating markets in the Mekong Delta
, Cai Rang floating market is
famous for the diversity of products which come from the nearby regions
such as garden fruits, agricultural products, many other types of items and food: Pho, Hu tieu, coffee and small floating restaurants, etc. The freshest fruits harvested from the farm like durian, milk fruit, rambutan, mangosteen, grapefruit ... have reasonable cost.
The most attractive side of Cai Rang floating market is the display of their product
. Local people use one bamboo stick to hang their stuff in front of the boat, indicating the products they sell. By this way, you will know what kind of product being sold on the boat.
On the other hand,
visitors shouldn't miss out interesting eating experiences while visiting the floating market
. Because the trading activities start early in the morning, there are many floating restaurants opened to serve breakfast for both sellers and shoppers. Here, you can find most local dishes, such as
pho, hu tieu, com tam, bun rieu
, etc. With only 25,000 VND, surely you can treat your hunger with quite a hearty meal and even a cup of coffee.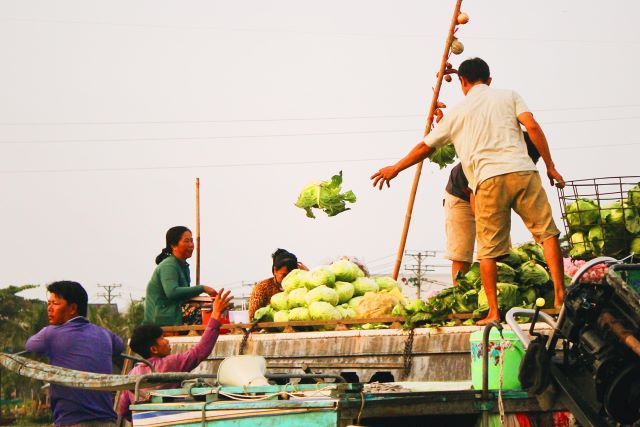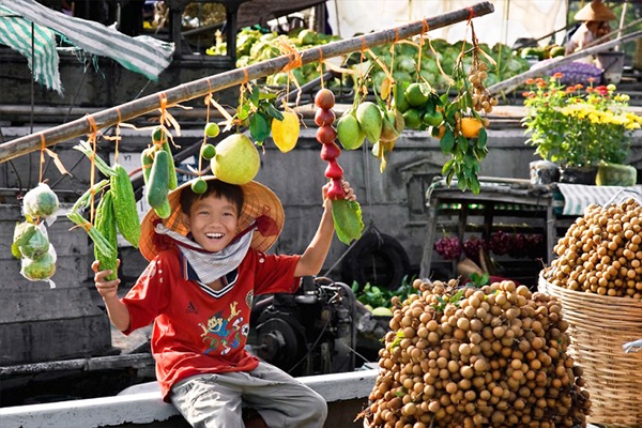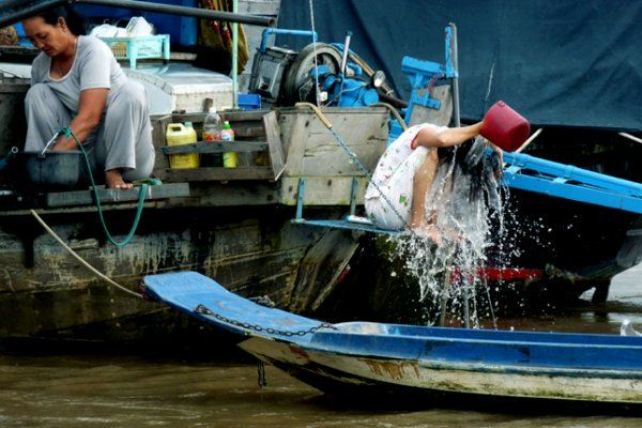 Soaking up in the bustling atmosphere of the special market, you can
observe and learn life of many families with several generations living together on boats
. There are boat as "mobile apartment" on the river with flower pots, animals, and full interior such as TV, DVD, stereo, ... including motorcycle parked on the boat. Not only is the vehicle used to purchase and deliver, but it is also the residence of traders' family. All daily activities take place on boats.
Cai Rang Floating Market is the city's most popular floating market as the region's rich soil makes it the country's main source of agricultural produce.

Best time to visit Cai Rang Floating Market
The best time to visit Cai Rang floating market is about 7-8 AM when the trading is the busiest in the day. In order to go to the floating market, you will need to get on a boat from Ninh Kieu pier. Arriving in Cai Rang, it is easy to notice the busy trading scene in the markets on hundred of boats. You can contemplate the unique culture of the local region while relaxing and taking pictures on a wooden boat.
Travelers can visit Cai Rang at any time of the year since you will experience something different during each time of the year. Trips in the rainy season will be much more relaxing due to the cooler atmosphere while the harvest season falls into the dry months, which means there will be more types of native fruits and agricultural products available.



How to get to Cai Rang Floating Market
Many tour operators offer tour to Cai Rang floating market from Ho Chi Minh City. The trips usually last two days (so you can do the floating market early on the second day) and the prices range from 30 USD to 200 USD depend on big group, small group tour or private tour. Small group tours (max 15 people) depart daily from Ho Chi Minh City priced at 95 USD per person twin share including 3* accommodation, meals, transportation, boat, English speaking guide. You can choose to stay at homestay or hotel in Can Tho City.

However, check the schedule of the trip before booking since cheap service providers usually take you on a bus with too many tourists (up to 40 people) or take you to unexpected shopping destinations.
If you want to go by yourself you will have to manage your time, transportation and budget. Doing the floating market by yourself; however, will entail you requiring a higher budget.

To get to Cai Rang floating market, you first need to go to Can Tho City. As the city is the capital of the Mekong Delta, it is not too difficult to get here.
Can Tho is easily accessible, with a number of direct flights from Hanoi/Da Nang/Phu Quoc. Flight duration is 1-2 hours depending on which city you're travelling from. Major airlines that travel to Can Tho include Vietnam Airlines, Vietjet Air, Bamboo Airways, Jetstar, Hahn Air. AirAsia also launched new routes from Kuala Lumpur and Bangkok to the biggest city in Vietnam's Mekong Delta, Can Tho in April/May 2019.

If you depart from Ho Chi Minh City, booking a bus ticket will get you to Can Tho in 3.5-4 hours. The buses run every 30 minutes. It is comfortable, with reclining chairs that are almost bed-like. Your ticket will be around 130,000 VND. The buses are operated by Phuong Trang Bus company, Mai Linh, Loc Phat Limousine, Tri Nhan ...

Once in Can Tho, you can catch a taxi or motorbike taxi to get to Ninh Kieu Wharf (where you can buy boat tickets) from the city's center. The distance is around six kilometers.

The boat ticket for a two-hour trip per person usually costs from 40,000 VND to 80,000 VND.

If you are traveling in a group, consider renting a whole boat since it may be cheaper and you can add some additional destinations to your trip. The prices for a boat range between 600,000 VND and 1,200,000 VND. Don't forget to tip!

Make sure to get there early (around 7AM)! The sunrise from the boat is fantastic and the food is at its freshest. You can see the market waking up from its slumber! It is the busiest time in the day.

Don't forget to bring on your cap and sunblock since the sun will become hot very quickly.
If you want to have the best experience, avoid touristy boats. Take a local fishing boat. You'll have more flexibility this way and the local will show you around. If you want to capture beautiful photos you should choose a local pineapple boat. Pineapple boats are the boats that have a roof for you to climb on top of. From there, you can have a beautiful panorama picture of the whole market.

2. Cai Be Floating Market
Located on the giant Tien River in Tien Giang province, the Cai Be floating market is a hub for transporting agricultural goods and seafood from the Mekong to the rest of Vietnam. Cai Be opens from dawn till dusk so travelers are free to choose their time to visit. Nonetheless, each period of the day will be different from the other.
In the morning, visitors should wake up early since the trading in the market begins at 3 AM until about 9 AM. There are various products sold in Cai Be from textiles, household appliances to seafood, domestic fowls. Obviously, this floating market also offers a wide range of fruit from Tien Giang province like coconut, rambutan or durian. Hundreds of boats with bamboo poles called "cay beo" along with stilt houses and trees on the bank of the river will create a fantastic scene for photographers.
In the evening, around 4 PM, you can also set out to contemplate another beauty of Cai Be. Now, it is not time to experience the bustling market, but rather watch the sun kissing the horizon. Local boats will start lighting up the lanterns making the whole market dreamy than ever before.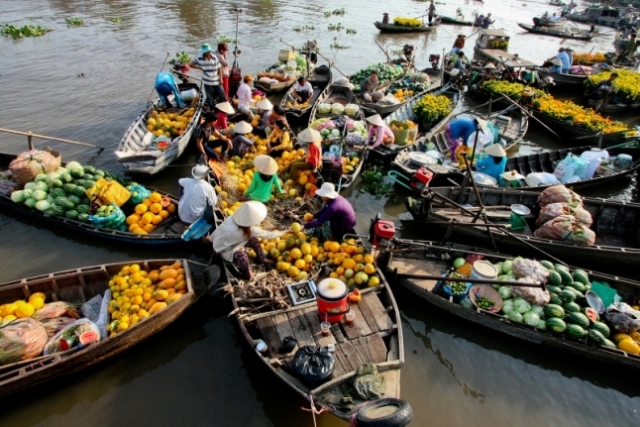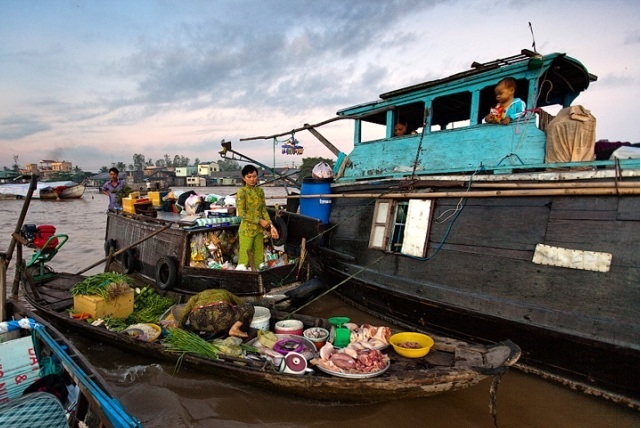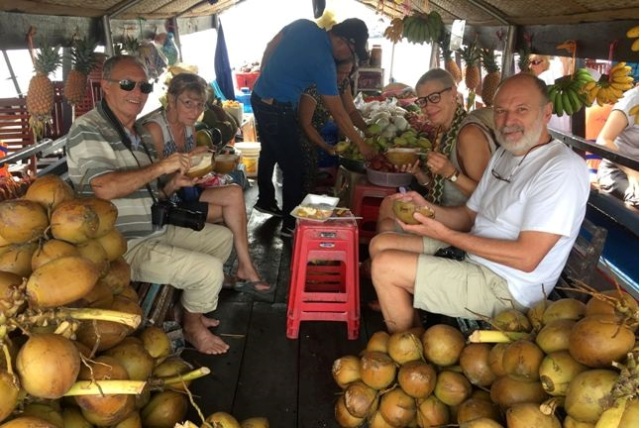 How to get to Cai Be Floating Market
Visiting Cai Be floating market is another convenient choice for travelers because of its location, as it's the closest to Ho Chi Minh City (105km). The best way to get here is to join a group or private tour or take a taxi from Ho Chi Minh City. Or board a bus to Cai Be.
Small group tours (max 15 people) depart daily from Ho Chi Minh City priced at 49 USD per person including transportation, lunch, cooking class, bike, boat, and English speaking guide.

If you want to go by yourself you can buy a bus ticket from one of the bus companies such as Hai Duyen, Tri Nhan Limousine, Anh Tuan, Ha My .... The bus duration is from 2-2.5 hours. The prices are from 90,000 to 170,000 VND/ticket/way.
The boat costs 400,000 VND for 1-2 people including big boat, small rowing boat, seasonal fruit, honey tea, and traditional folk music.

Do not forget to bring your hat, sunglasses, sunblock and mosquito repellent cream. When visiting the floating market or doing any river tours, choose reputable providers and boats equipped with life buoys and jackets. Safety is a priority!

Foodie alert!
Foodies can savour
Bun rieu cua, a rich, tomato-based crab noodle soup with rice vermicelli and dumplings

Com ga cam ky, steamed chicken rice

Banh trang tron, rice paper strips tossed with peanuts, herbs, dried shrimp, dried beef, hard-boiled quail eggs, shredded mango and sweet-sour spicy dressing

Bap xao bo, corn stir-fried with margarine, green onions and dried shrimp
Other