Mu Cang Chai district in Yen Bai province about 314km northwest of Hanoi, is particularly beautiful with terraced rice fields winding around mountain sides. Covering more than 3,500 ha, the terraced rice fields are attractive tourist destinations. To get to this place, travelers must conquer Khau Pha Pass, which is one of the most winding, dangerous and hair-rising passes of the country. But the award for your bravery is worthy: Mu Cang Chai features the most stunning rice terraces in Vietnam.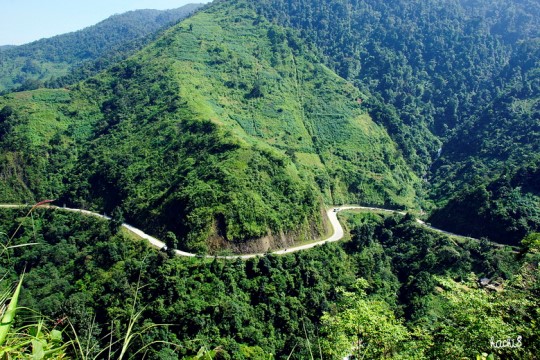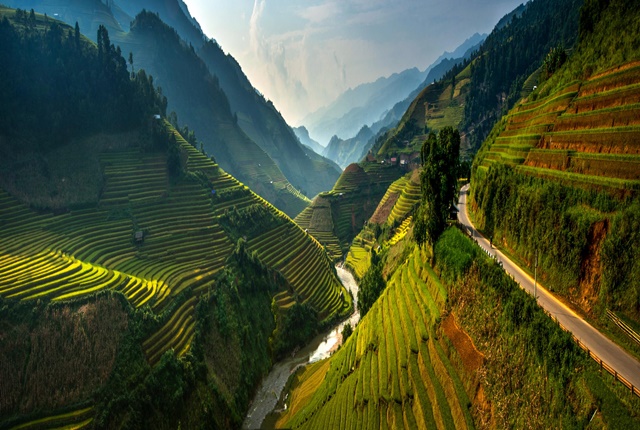 In 2007, the famous terraced fields in 3 communes of La Pan Tan, De Xu Phinh and Che Canh were recognized as official State National Attractions. Mu Cang Chai was also named among top 10 most beautiful terraced fields in the world.

In the vicinity of Mu Cang Chai there are several interesting sighseeing points on or directly from rice terraces. Some of these places are only accesible by motobike or walking.
The fascinating photogenic tourist site Mam Xoi (sticky rice tray hill) is about 8 km away from Mu Cang Chai, the hill stands at 1,000-1,600 metres above sea level. At the end of September and during early October, it enters the most golden rice season of the year, attracting crowds of people there to enjoy the full autumn in the fragrant rice. The Mam Xoi Hill is famous for the unique shape of terrace rice fields. It's considered to be the most beautiful terraced field in the Northwest. To reach the hill, visitors can go on foot about 1.17 km or take a xe om (motorbike taxi) with a round trip ticket of VND 40,000-VND 50,000. Visitors should take the time to admire the breathtaking sunrise and sunset views from the top of the Mam Xoi hill at 5 a.m. and 4:30 p.m.
Mui Giay is a well known photogenic spot located about 15km from Mu Cang Chai town. This place is practically at the main road then easuly accessible. Here you can observe a very hard work of local people, mostly from the ethnic Hmong group. Those who can drive motobike should rent a motobike in Mu Cang Chai town to explore these nearby places on your own.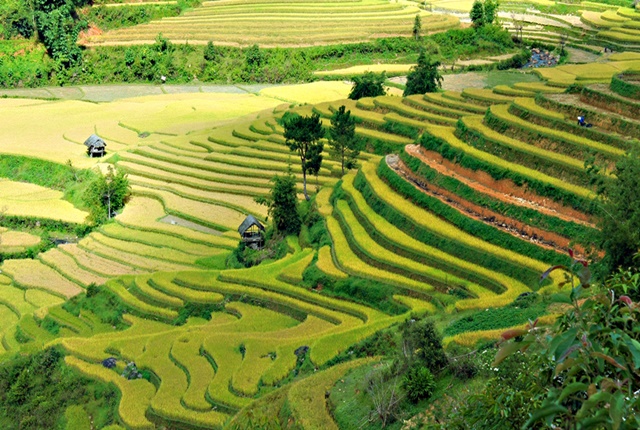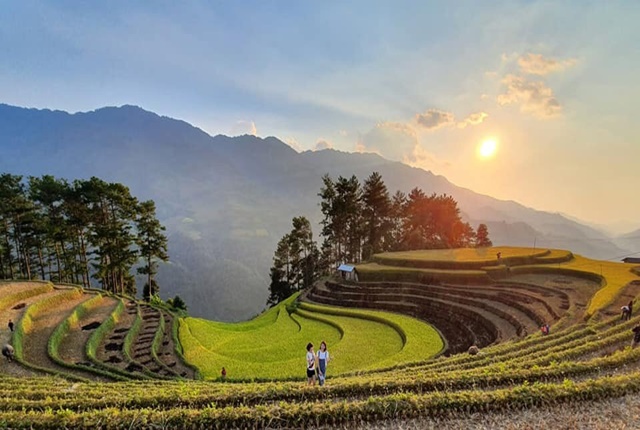 THINGS TO DO IN MU CANG CHAI
Treking and homestay.
Visit local family to know authentic of Hmong people daily life.
Once you get to Mu Cang Chai, make sure you can partake of the annual largest paragliding festival which happens from 22th - 24th of September at Khau Pha mountain pass. This festival attracts thousands of visitors and is the best way to view the breathtaking rice terraces from the height of 1,200 meters.

BEST TIME TO VISIT MU CANG CHAI
Thanks to its pleasant climate, Mu Cang Chai is beautiful at any time of the year. But for best photos, there are two best times to visit:
The first one is between April and June when the locals bring water to the fields to start a new rice season, the terraces then look like a big mirror reflecting sunbeam sparking on the water surface.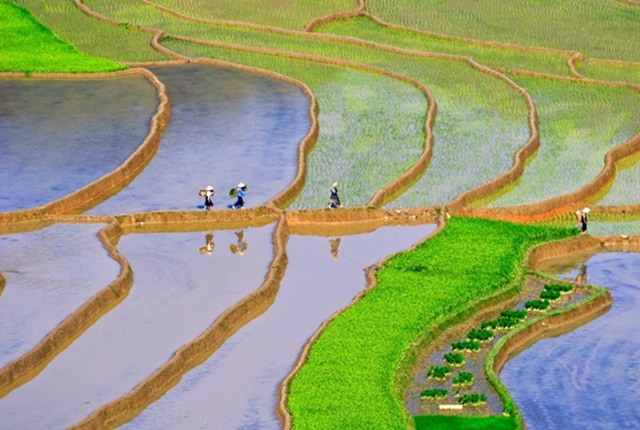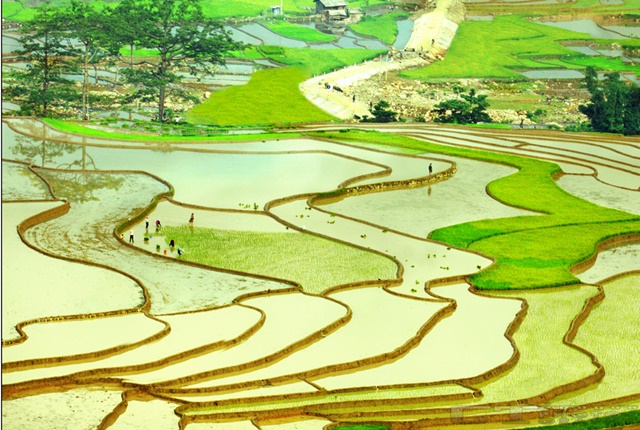 The second time is between mid - September and mid – October, it is the harvest time. At that time, the massive fields change from green to shining yellow color which allures every photography lover. These fields are recognised as a national scenic site as well as the unique cultural identity of the Hmong ethnic group.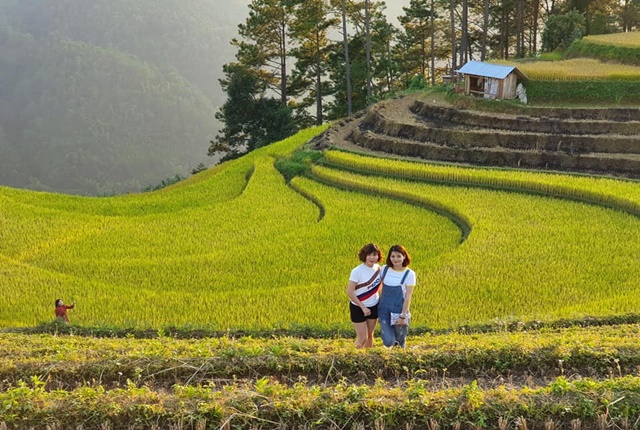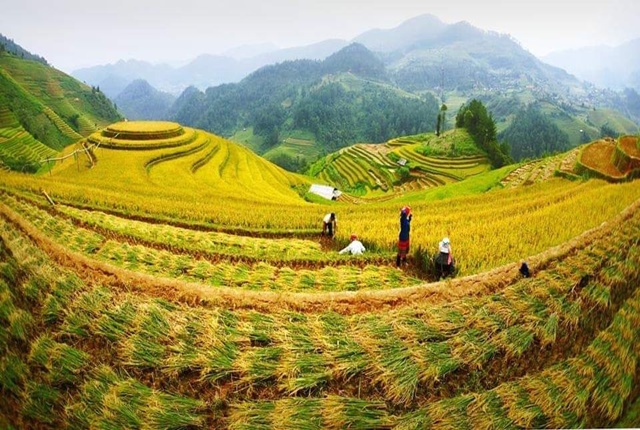 HOW TO GET TO MU CANG CHAI
How to get from Hanoi to Mu Cang Chai (314km):
You can travel by direct bus from Hanoi to Mu Cang Chai (duration: 8 hours ~ 314km). The roads are not in good condition. You can use Hung Thanh bus (this bus goes from Hanoi to Lai Chau town and pass by Mu Cang Chai town) or some other buses depart from My Dinh Bus Station in Hanoi.
You can also travel by train from Hanoi to the town of Yen Bai (Hanoi - Yen Bai ~ 247km, in the direction of Lao Cai) then from Yen Bai you can take a local bus/ taxi to Mu Cang Chai (173km).
How to get from Sapa to Mu Cang Chai (140km):
If you travel from Sapa or Lai Chau town you can use local buses to Mu Cang Chai or Nghia Lo town (Nghia Lo town is 95km from Mu Cang Chai). You should check with the hotel receptionist or go to the bus station for the timetable. Mu Cang Chai and Khau Pha Pass are the most beautiful places with huge rice terraces and view in Yen Bai province.

WHERE TO STAY IN MU CANG CHAI
Mu Cang Chai is a poor & undeveloped district of Yen Bai province, just lately opened for tourism so the travel providers are fairly restricted with a small variety of mini-hotels & homestay. Price are very low, around 6 USD/person.

TRAVEL TIPS:
Bring along some food and drinks because you might need more energy during your visit.
Remember insect/mosquito spray in case we have some little friends wanting to say hello.
Also prepare raincoats and other hiking necessities for this long trekking trip.
Other