Located on the border of Vietnam and China, Ban Gioc Waterfall is a natural border in the far northeast of Vietnam in the largely rural province of Cao Bang. The waterfall is divided into two parts, with the northern side belonging to China's territory and Vietnam on the other. It claims to be the highest natural waterfall in the Southeast Asia region, reaching to more than 70 meters with three layers of falls and spreading to 208 meters in total width.

Pouring out to Quay Son river, Ban Gioc waterfall is located in the middle of a mountain range across the area. From the height of 30 meters on the Vietnam side of the fall, the pounding water flows will make you feel as if you're standing in front of the wrath of Poseidon. Scattered around Ban Gioc waterfall in an unexpected neat pattern, the rock platforms have separated the water masses into many currents like silver threads.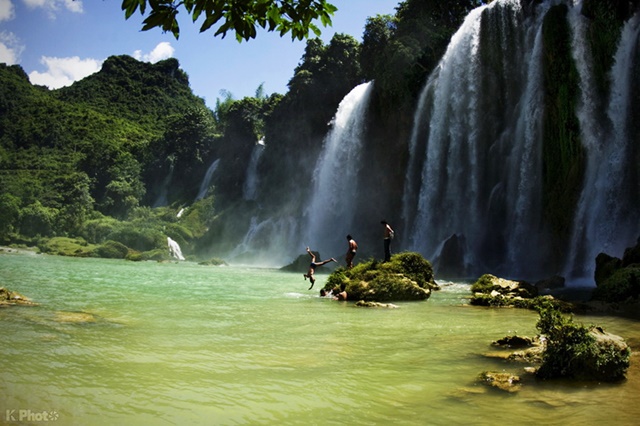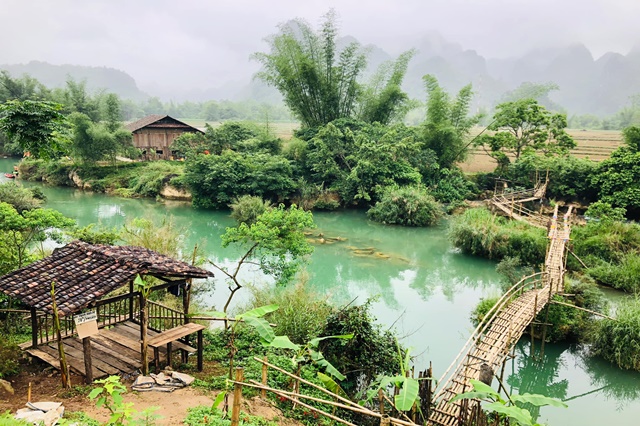 The falls are not so easy to access and are located in a non-tourist province, so there may be a little worse transportation which some foreign travelers discourage. The waterfall itself is located about 350km north of Hanoi. It is roughly 85km northeast of Cao Bang city. Though it is far from Hanoi but it's definitely worth to visit.

WHAT TO VISIT NEAR BAN GIOC WATERFALL
Approximately 4km before the Ban Gioc Waterfall you will pass a turn off for the Nguom Ngao Cave. Costing only 45,000 VND this is definitely worth a visit and should take no longer than 1.5 to 2hrs. The cave is well lit inside showcasing the various limestone formations.
Nguom Ngao cave was discovered in 1921 by locals and several foreign visitors who later discovered its age to be hundreds of millions of years old. With the total length of more than 2,100 meters, Nguom Ngao cave is truly an ideal place for nature-lovers. It has three main gates: Nguom Ngao, Nguom Lom and Nguom Ban Thuon, each of which are Tay names.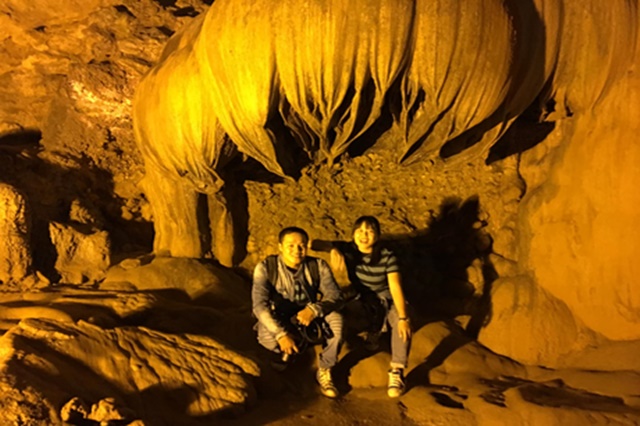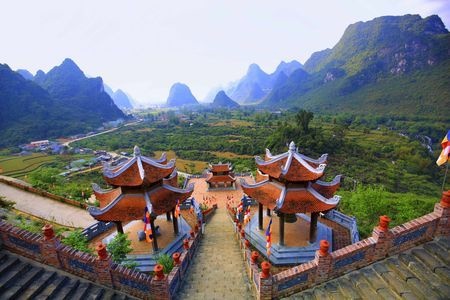 You can also visit Truc Lam Phat Tich Pagoda, about 500m from Ban Gioc Waterfall - built in the traditional Vietnamese architecture in an area of 3 hectares, this is the first pagoda to be built in the northern border area of the country, in Trung Khanh District, Cao Bang province.

BEST TIME TO VISIT BAN GIOC WATERFALL
You can visit this breathtaking spot any time in the year. However, there are times when you can experience the very best version of Ban Gioc with the appearance of many more natural touches around this waterfall. The best season is mostly in the summer months (May-September), when the water is mostly clean, transparent and water is enough. However, this is a monsoon period and therefore occasional heavy rainfall cannot be ruled out. In the summer, also count with a possible number of tourists.

The weather during the dry season (October to May) is much cooler, and there is less rain. The currents are gentle with a beautifully clear turquoise tint to the water. However, the problem with this season is the water amount: "gentle" sometimes means "shallow" if the sun decides to appear more than usual.
According to locals and experienced travelers in Cao Bang, the best time to visit this phenomenal waterfall is around August and September, when the water is active but not too low, and is clear and blue. However you can pair your trip to Ban Gioc waterfall with other activities in the surrounding area. If you wish to enjoy the fantastic view of ripe rice fields across Cao Bang, visit in October. Or, visit in November and December if you want to embrace the beauty of wild sunflower fields after exploring Ban Gioc waterfall.

HOW TO GET TO BAN GIOC WATERFALL
If you do not book a private tour from a tour operator, you can travel by bus or motorbike. There is no railway connection between Hanoi and Cao Bang.
We have to go through two routes to get to Ban Gioc waterfall; starting off from Hanoi to Cao Bang (270km), and from Cao Bang to Ban Gioc (85km).
From Hanoi to Cao Bang you can travel by sleeping buses. It can take up to 7 hours. This mean of transport is highly recommended because of its safety and time-saving factor. Here are some trusted bus brands offering routes from Hanoi to Cao Bang, with the price ranging from 200,000 to 270,000 VND (prices are subject to change due to holiday demands).

HUNG THANH BUS
Departure time:
From Hanoi: 9:50 AM / 6:00 PM / 7:30 PM
From Cao Bang: 9:00 AM / 7:30 PM / 8:30 PM
Phone number:
+84 972 222 694 – Hanoi
+84 989 481481 – Cao Bang

HAI VAN BUS
Departure time:
From Hanoi and Cao Bang: 8:30 PM
Phone number:
+84 24 37223 588 – Hanoi
+84 1677 242424 – Hanoi
+84 1686 242424 – Cao Bang

VINH DUNG BUS
Departure time:
From Hanoi and Cao Bang: 8:00 PM / 8:30 PM
Phone number:
+84 2063 755 755 – Cao Bang
+84 973 755 755 – Ha Noi

After arriving in Cao Bang, you can take the regular buses (number 3 and 7) to Trung Khanh town and Ban Gioc waterfall resort as their final destination. The distance is around 85 kilometers so it should take you two more hours to get to your waterfall. The price is about 80,000 VND, hourly from 5.30am to 6pm.
If you can drive a motorbike, you should ride your own motorbike from Cao Bang to Ban Gioc Waterfall. Motorbike can be easily rented in Cao Bang. You can ask at your hotel/ guesthouse.
There are two routes to choose from when riding a motorbike from Cao Bang to Ban Gioc Waterfall. Each route is unique and if you are feeling adventurous you can actually combine these both to make an extended loop from Cao Bang to Ban Gioc Waterfall.

- The easy route is the DT206 which follows a freshly sealed 2 lane highway after a left turn at the Quan Uyen intersection. The road winds back and forth up through the mountains with wide-reaching bends which are comfortable to the beginner rider. While the road is in a good new condition, it is also frequented by trucks heading up to the China border. Expect plenty of overtaking on risky hairpin corners or suck up the exhaust fumes for the next few hours.
Approximately 4km before the Ban Gioc Waterfall you will pass a turn off for the Nguom Ngao Cave. Costing only 45,000 VND this is definitely worth a visit and should take no longer than 1.5 to 2hrs. The cave is well lit inside showcasing the various limestone formations.

- The more adventurous route is the DT207 which is accessed by a right turn at the Quan Uyen intersection. This route follows a choppy, potholed and mostly unsealed road through the Vietnamese countryside. While only an additional 20km in length it takes at least 4-5 hours longer to complete due to the poor road conditions. Ride too fast and you'll break your motorbike or yourself. Along route DT207 you will see more buffalo than trucks. Small villages, sleepy streets and morning markets populate the route. Young children run rampant, elderly ladies serve up hot Pho noodle soup and buffalo till the earth ready for farming.
If going for the full loop option (route 1 and 2) it is unlikely you'll make it from Cao Bang to Ban Gioc Waterfall and back in the one day. Plan to make your rest stop in the village of Thanh Nhat where you'll find the small yet comfortable Minh Van Hotel. There are not many other options around.

ENTRANCE FEE TO BAN GIOC WATERFALL
There's an entrance fee to Ban Gioc Waterfall, ranging from 40,000 to 60,000 VND depending if travelers are adults or children. Tickets are purchased from a small side of the road ticket booth, where in typical Vietnamese fashion there is a "ticket checking station" located another 10 meters from the point of purchase.
Motorbike parking down in the waterfall area is an additional 10,000 VND (roughly USD 0.50).

If you're keen to get a little closer to the waterfall it is possible to hop on board a raft boat for an additional fee. Boat owners here will punt you on bamboo rafts (100,000 VND) close enough to the waterfall so you can feel the spray on your hair (bring shampoo!) and skin. Rafts on the Vietnamese side have green canopies, and on the Chinese side canopies are blue. You're allowed to swim in the large natural pool on the Vietnamese side, but not in the river or close to the main waterfall.

WHERE TO STAY
1. IN CAO BANG TOWN:
There are various not so expensive hotel/ homestays in Cao Bang town. Here are some very good reviewed hotels/ homestays for your reference: Jeanne Hotel, Primrose Homestay, Cao Bang Ecohomestay, Max Boutique Hotel, Minh Hoang Hotel, Duong Ha Hotel …

2. IN TRUNG KHANH TOWN: Hoan Le Guesthouse, Thien Tai Guesthouse, Dinh Van Hotel, Quay Son Homestay.

3. AT THE BAN GIOC WATERFALL:
There are some homestays and cheap hotels in the nearby area, but it is still a little bit limited: Dinh Van 2 Hotel, Tung Duong Guesthouse, May Linh Homestay, Khuoiky Ban Gioc Homestay, Minh Khang Homestay.
In the non-tourist season (winter months), some of these homestays or hotels may be closed.
TRAVEL TIPS:
Bring along some food and drinks because you might need more energy during your visit.
Remember insect/mosquito spray in case we have some little friends wanting to say hello.
Also prepare raincoats and other hiking necessities for this long trekking trip.
Other