Ha Giang province is located in the most northern part of Vietnam, about 300 km northwest of Hanoi. This remote and mysterious province is a showcase of unbelievable mountain landscapes, limestone walls, roaring rivers, smiling people and hundreds of kids. Apart from its stunning scenery, Ha Giang is a home to many different ethnic tribes like H'mongs. That is why Ha Giang is a great opportunity to peek into the rural way of living. It's all very laid-back and serene, just how the Vietnam experience should be.

Must things to see in Ha Giang

1. Dong Van Karst Plateau UNESCO Global Geopark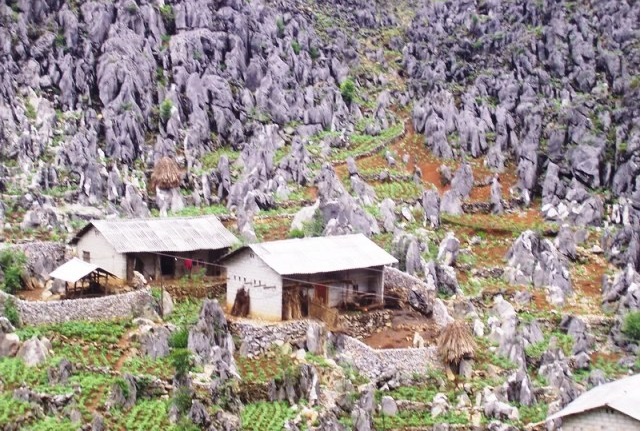 Dong Van Karst Plateau Geopark was official 77th member of the Global Geopark Network in 2010. It became the first global Geopark in Viet Nam, the second in Southeast Asia. Most of its surface is limestone (about 60%). Its landscape is spectacular and unique having high mountains and deep canyons. The highest peak is Mieu Vac Mount (1971m) while Tu San is the deepest Canyon (700-800m deep).
Dong Van Karst Plateau is not only sculpture product, a historical rocky page of the nature present to human people but also contain a lot of potential values such as, Geoheritages, biological diversity, tourism, fossils...Especially, the cultural of community 17 ethnic groups on Dong Van Karst Plateau Geopark, traditional beauty need preserving and promoting.
Dong Van Karst Plateau is unique combination between Geoheritages and cultural heritages. Which has created great potential for tourism and attracted many visitor within and outside country.
2. Fairy Bosom (Quan Ba twin mountains)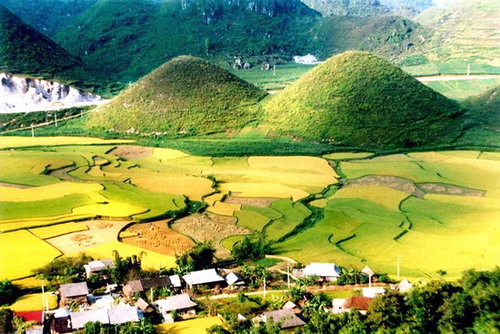 Quan Ba Fairy Bosom is located along Highway 4C, it is far about 40 kilometers from Ha Giang town, belongs to Quan Ba district, Ha Giang province.
Fairy Bosom is a unique landscape with two symmetrical smooth hills. They are so charming and balanced that locals started calling them Fairy Bosom and its name dates back to ancient times and it is associated with many legends. Visitors have the opportunity to admire the art of the nature give to this land. Between the mountain and rice terraces, there have mountains with strange shape that make visitors surprise by the spectacular beauty of the nature. Two mountains associated with the legend "Co Tien Mountain" very interesting.
3. Heaven's Gate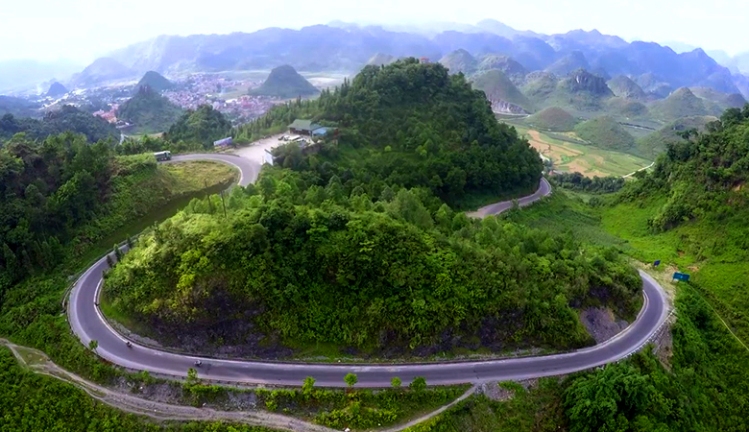 Quan Ba Heaven's gate is located about 50 km north of Ha Giang town and it is the gateway to the geological park. Once upon a time, behind the gate was a kingdom of Hmong people with 4 districts Quan Ba, Dong Van, Meo Vac and Yen Minh. In 1939 the French built a huge wooden door, 150cm thick to divide this area from the rest. The door is no longer there, only a sign in both English and Vietnamese languages: Quan Ba Heaven's Gate.
4. Lũng Cú Flagpole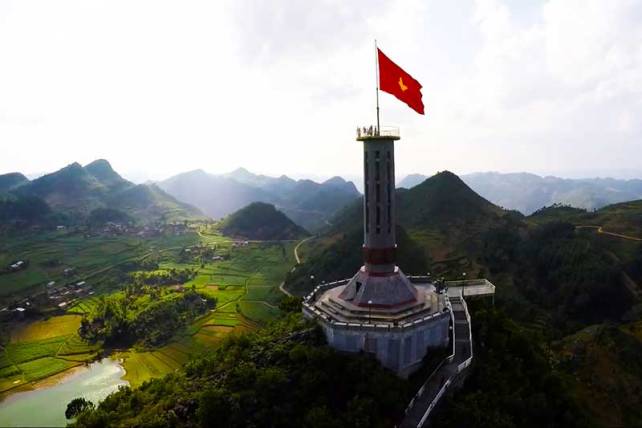 The most northern village of Vietnam called Lũng Cú, Vietnam's North Pole. The 'pole' itself is a tower atop a small hill with excellent views across China from the top. The summit is reached by almost 300 steps from a mid-level carpark, and the views across rural villages are stunning. You'll need to show your passport and Ha Giang permit twice – at the local tourist police and army checkpoint near the base of the tower – before ascending to the top.
5. Ma Pi Leng Pass - The top 4 most dangerous passes of Vietnam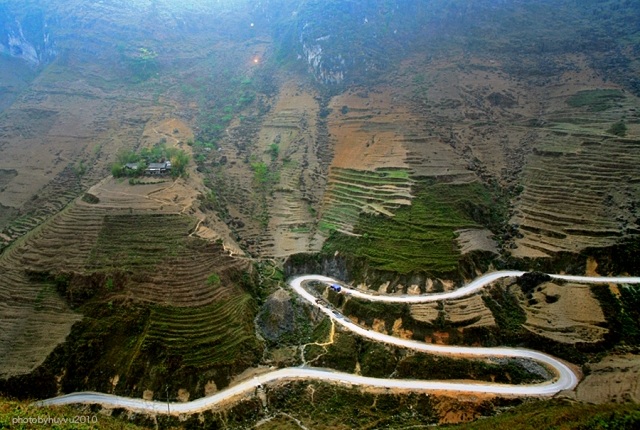 After a few minutes drive from the city of Dong Van the famous road and mountain pass begins – Ma Pi Leng Pass. It's probably one of the most beautiful roads you can ride in Vietnam. The modern history of the road started in the period between 1959-1965, when thousands of young people from 17 ethnic groups built the road, the construction process taking 11 months. Initially, the road was only for walking or horse teams, but later it was extended to cars and trucks. Treeless walls of limestone mountains raising hundreds of meters above the craterous Nho Que River valley – it should be one of the best views in your life. So worth the trip up here for the views that you may only see once in a lifetime!! You will be just blown away by the scenery and endless views of the landscapes. But the roads are dangerous here, ride cautiously on a motorcycle specially in rainy weather.
6. The Hmong King's Palace (Vuong Chinh Sinh) in Sa Phin village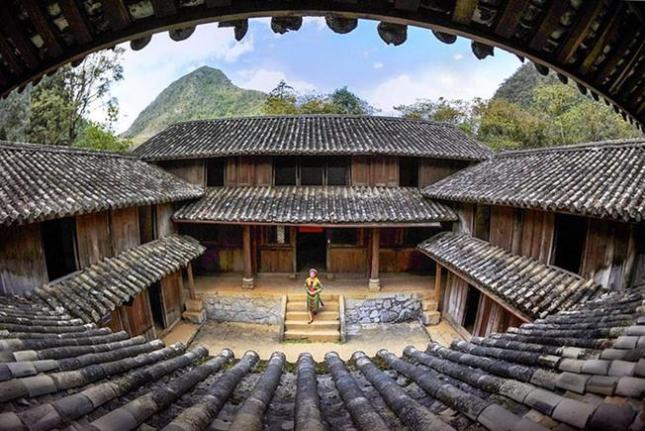 This grandiose two-storey mansion was built for a local Hmong king by the French. Set in a hidden valley in the tiny village of Sa Phin, the building was renovated in 2006 and is a fascinating sight in such a remote region of the country. Sa Phin is around 15km west of Dong Van.
7. Dong Van Old Quarter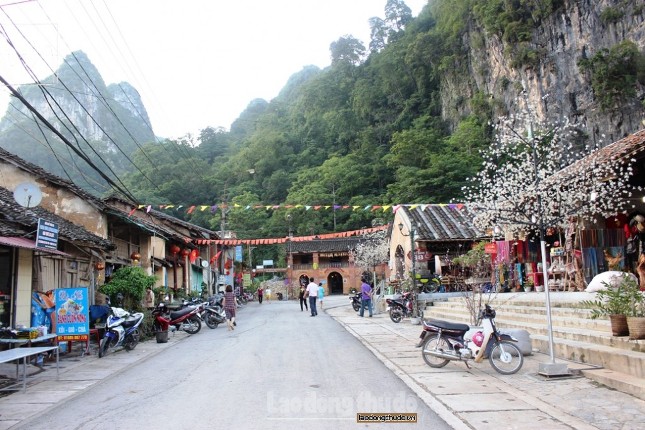 At the northern end of P Co, just past the old market plaza, a narrow lane, backed by a limestone cliff, meanders into the compact old quarter of Dong Van. The traditional terracotta-coloured adobe houses here, with timber details and slouchy tiled roofs, date from the French colonial period, although many have been updated. There are about 40 houses in this old quarter. Now you can easily find Vietnamese food and coffee around the quarter. Enjoying featured food and visiting Dong Van center market on Sunday is a great experience.
8. Lung Cam Cultural Tourist Village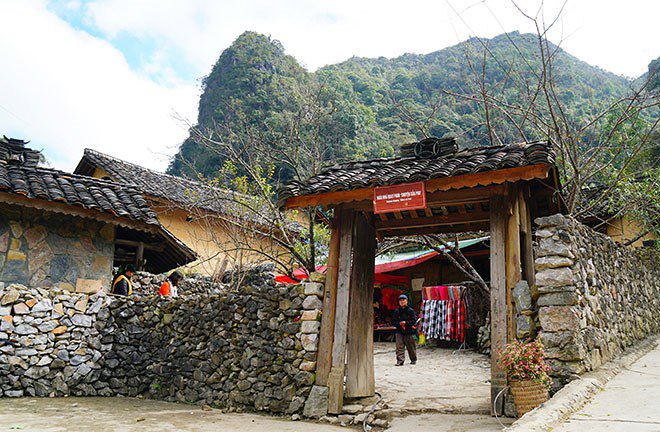 Located in the narrow, incredibly picturesque Sung La Valley is the village of Lung Cam. Deemed a 'cultural tourist village' by the local authorities, the highlight here, aside from the stunning setting, is a century-old traditional Hmong house. The adobe structure, surrounding a stone-paved courtyard, was, in a former life, an opium emporium, and more recently featured in a Vietnamese film.
Lung Cam is located 25km west of Dong Van. If you don't have your own wheels, you can flag down any of the buses that connect Dong Van and Tam Son.
9. Hoang Su Phi - a remote area in Ha Giang with beautiful rice terraces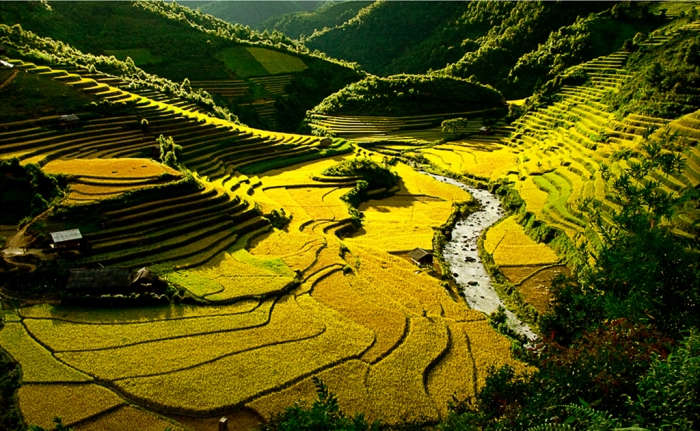 Hoang Su Phi in the province of Ha Giang is an area less frequented by tourists. But that does not mean it is not pretty. Through the entire area you will pass huge areas of rice terraces, unspoiled nature and ethnic villages. If you stay for a few days in Ha Giang, this place is definitely worth a visit, but you need to take at least two days. Hoang Su Phi is about 70 km from the city, but to get there through the winding road takes a lot of time.
There are several cheap hotels in Hoang Su Phi town, or you can stay at a homestay with local people. For those who expect better service and accommodation can stay at Panhou Village Ecolodge.
Ethnic residents are composed of 11 ethnic groups (mainly Hmong, Tay, Dao and Nung). Hoang Su Phi lies at an altitude of about 1,000m, the weather is about the same as in Sapa, but services are more limited.
Best time to visit Ha Giang
Almost any time of the year is good to visit Ha Giang. There is really no best season for a motorbike ride. The hot and rainy season runs from April into October. The cold and dry season starts in November and ends in March.
1. January - Peach and plum blossom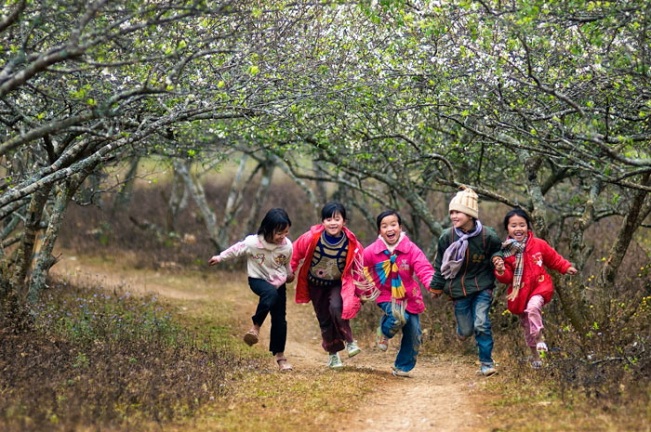 In January, all peach and plum flowers blossom. This make Dong Van rock plateau become greater and colorful of white and pinks with black rocks mountains. You can find yourself immerse with nature whenever you come to visit.
2. April - Love market in Khau Vai, Ha Giang, Vietnam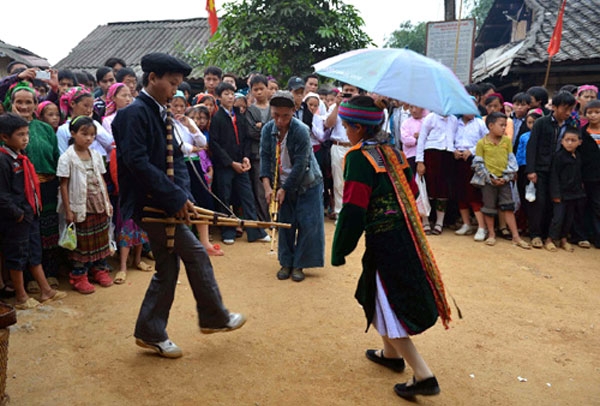 Khau Vai love market is a very famous feature of Ha Giang. You should never miss this wonderful time to visit Vietnam during your trip. Your best Vietnam travel itinerary can not complete without Khau Vai love market experience.
On 27 of March (lunar calendar), travelers say come to visit Ha Giang. During this time, you can all see ethnic people in their traditional dress. Young people gather in Khau Vai market to find their lovers and entertain. Many then get married and become wife and husband.
This special day is also time for you to enjoy great voice of young ladies. Men will perform playing flute and trumpet to show their skill and get new aquaintances. You can list this among things to do in Vietnam for your next holiday tour, to get new experience of Vietnam northern beauty.
3. May - Ha Giang in water season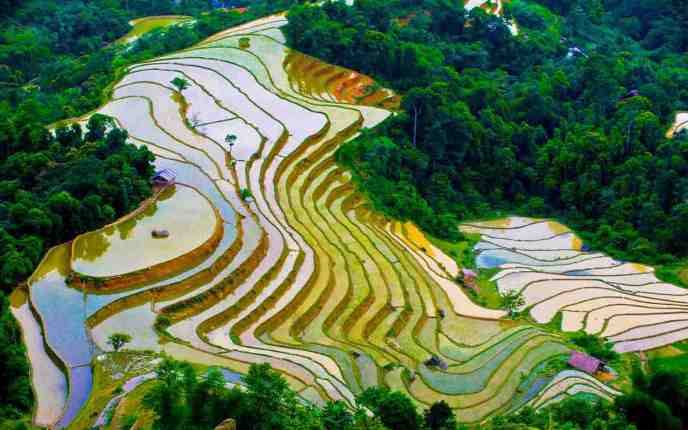 This time is the best time for you to see young rice. From May to July, rice is full of water. Small rice grows up with water is great to enjoy. You can choose to visit Ha Giang this time to see and discover more about it.
4. September/October – Ha Giang with ripe rice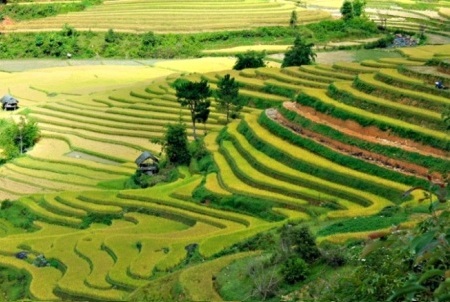 Yellow color covers all terraces is such great moment to enjoy and immerse in Vietnam. Among best time to visit Vietnam, September is great to take a tour to northern provinces of this Asia country. You can not miss this wonderful moments when all rice at the right time to be harvested.
5. November - Ha Giang with flower festival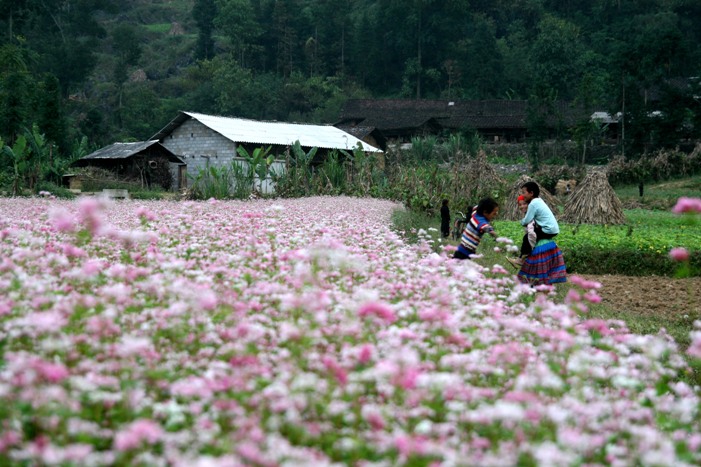 November is the best time to visit Ha Giang, top best places to visit in Vietnam. None can ignore the beauty of small flower – Bucket Wheat Followers. Many small flowers are put along the way to Ma Pi Leng pass, in Dong Van center.
Bucket Wheat Followers is featured for Ha Giang. Small flowers with its light purple color make many miss even after the tours. These are on rock mountains, make this majestic more charming and appealing to travellers.
6. December - Time of snow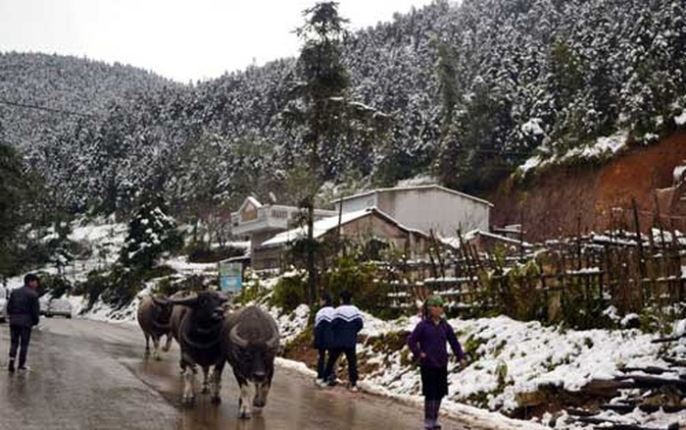 It is cold in Vietnam. We all know that. But in Vietnam, seeing snow is very rare. You can not enjoy this if you are in Ha Noi or big cities. Only in Ha Giang or Sapa, northern provinces of Vietnam, you can do this. Having a tours to Vietnam, you can even see snow in December cold. This time, Ha Giang even can not reach 10oC degree. It is cold with foggy weather. Why not spend time with us to enjoy this great moment in life?
How to get to Ha Giang
1. How to get from Hanoi to Ha Giang.
In Hanoi, you can catch a sleeper bus to Ha Giang from Mỹ Đình bus station. Buses leave almost every hour starting at 4:30 am till 1:30 pm. The night buses leave between 6 pm till 9:30 pm. The ticket should cost 200,000 - 350,000 dong/one way. The bus takes about 7-8 hours, give or take, with one mid-way stop as there is no toilet in the bus. Several direct buses run from Hanoi to Ha Giang and from Ha Giang to Hanoi. They are operated by Hung Thanh or Quang Nghi, and some other small companies.

– Bus station in Hanoi – Mỹ Đình Bus Station (Mỹ Đình 2, Nam Từ Liêm)
– Bus station in Ha Giang – Ha Giang Bus Station (Đường 19/5, Phường Nguyễn Trãi)

A good option is also the night train from Hanoi to Lao Cai (visitors heading to Sapa or Bac Ha) and then take a local bus from Lao Cai to Ha Giang town (this journey by bus takes about 6 hours). You can do a stopover in Bac Ha town and visit the Sunday ethnic market of the Flower Hmong. There is no train connection in Ha Giang province.
2. How to get from Sapa to Ha Giang town? You can travel by bus.
– There is a direct bus of Grouptour from Sapa to Ha Giang.
– Travel by bus from Sapa to Ha Giang takes about 7-8 hours.
– Bus ticket costs only about 250,000 dong/one way.
– Another way is to take a bus to Lao Cai and from Lao Cai you can take another bus to Ha Giang.
3. How to get from Ha Giang to Dong Van town.
Dong Van – it is a northernmost town of northern Vietnam. There are some local buses from Ha Giang to Dong Van. For the current timetable I recommend to ask at the bus station or at your hotel, hostel in Ha Giang. Surrounding of the Dong Van town offers fascinating sceneries. The best way how to explore this area is to rent a motorbike in Ha Giang and travel on your own.

Getting around Ha Giang
The easiest way is to rent a bike in Ha Giang and then go to the far north (Dong Van, Meo Vac, Lung Cu …). Renting a bike for 1 day costs around $7-15. There are few different companies to choose from, such as QT Bikes & Tours. You are recommended to choose a bit more of a powerful bike, not a scooter, for this mountainous area. A good choice is a semi-automatic bike. Before you set off, check and try your motorbike, check the tyres, brake...

Accommodation in Ha Giang
You will find a lower category hotels, guesthouses (Nha Nghi), but also offer of homestay accommodation in Ha Giang town. When you go with a motorbike you can accommodate in Coc Pai, Hoang Su Phi, Tam Son, Yen Minh, Dong Van, Meo Vac, Bac Me. There are some cheap hostels, hotels and homestays. Now it is not a problem to book your accommodation in this province online. The number of hotels in this province still growing. You can also use Airbnb, there are lots of typical homestays, wooden cottages but also hotels in different places.

How to get your permit in Ha Giang (obligatory)
If you travel to the farthest places (and most beautiful – Dong Van, Meo Vac, Lung Cu…) in the province of Ha Giang, you will have to buy a permit. This permit can be purchased at the Immigration office in Ha Giang town. This office is located on the 296 Trần Phú street.

Obtaining the permit is very simple. The officer is at the window, you hand him your passport, he fills in the info from the passport and you pay $10. He gives you a permit and your passport back. If you arrive on a motorcycle, the police officer will want the registration number of the motorcycle, he writes the reg on the permit. A permit can be also purchased at the police station in Meo Vac town.
Alternative almost hotels/ hostels in Ha Giang can help you to get this permit.

Ha Giang Travel Tips
1. Take your time to unwind. A three-day trip is not enough to truly feel the essence of Ha Giang. Four or five days is the best. In this case, longer means better.
2. Make sure you bring enough cash.
3. Keep your cool when driving! You will hear a lot of honks – there are so many winy roads that it is always better to announce your presence to everyone.
4. Don't forget to bring these things with you:
- Raincoat;
- Extra socks;
- Waterproof cover for your phone, camera and your documents;
- Sturdy footwear/riding boots – never think of riding a motorbike in flip-flops or sandals;
- Your personal medication/first aid kit;
- Mosquito repellent & sunscreen;
- Torch;
- Earplugs (for the bus journey or for sleeping at hostels).

Other