Ninh Binh province is located in northern Vietnam, about 100km south of Hanoi. With its hundreds of limestone cliffs emerging from the ground scattered across the rice fields, this region is appropriately nicknamed the "Halong Bay in land".
Apart from this stunning scenery, Ninh Binh is a great opportunity to peek into the rural way of living. It's all very laid-back and serene, just how the Vietnam experience should be.

Top things to do in Ninh Binh

1. Boat ride in TRANG AN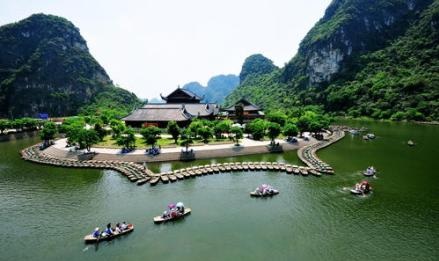 Trang An Scenic Landscape Complex is a UNESCO World Heritage Site, registered as a natural and cultural asset. It consists of a spectacular limestone karst landscape, with the historical city of Hoa Lu and rice fields. Trang An Landscape Complex is one of the most visited places in northern Vietnam. There are 48 caves located in Trang An and it's a well-known place for diverse ecosystems.
Rowboats bob along the Sao Khe River through limestone caves. It's a relaxing trip, but many caves have also been enlarged to accommodate boats. Boat trips (200,000d per person) take two hours, and there are two possible routes, both visiting caves and temples. Bring a hat and sunscreen as the boats lack shade. Trang An is 7km away from Ninh Binh and about 11km from Tam Coc. You'll pass it on the way to the Chua Bai Dinh.
2. Boat ride in TAM COC and cycling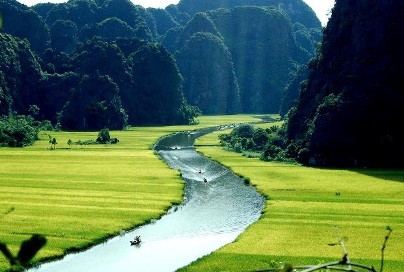 Take a 2 hour boat ride in Tam Coc, on the way down the Ngo Dong river, you will pass three caves, the first cave Hang Ca measures 127m, second Hang Giua 70m and third Hang Cuoi 40m.
There are also floating shops on boats, where local people offer a variety of drinks and food.
The area around the river is suitable for cycling or walking. Rent a bike and ride here in the lowlands – between the hills and the paddy fields this is a magnificent landscape.

3. Temples and Pagodas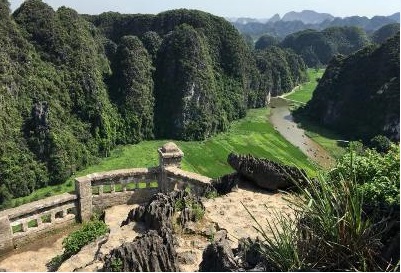 Scattered across the rice fields, enclosed in mountains on sitting on top of them, there is no shortage of temples in Ninh Binh.
Perhaps the most dramatic is Hang Mua. Sitting on top of hill 500 steps above ground, this temple is both a challenge and a delight. While the temple is somewhat unimpressive, the views over Tam Coc are stunning. The climb is paved but steep in sections, so bring water and allow an hour return. Mua Cave is 5km from Ninh Binh and is a popular stop on Tam Coc tours.

If you're looking for something less challenging, but equally impressive, the recently built Bai Dinh Pagoda is a good option. Bai Dinh Pagoda is a bombastic Buddhist complex, built on a vast scale, that rises up a hillside near Ninh Binh. Construction was completed in 2014, and it's now a huge attraction for Vietnamese tourists. The entrance leads to cloistered walkways past 500 stone arhats (enlightened Buddhists) lining the route to the main triple-roofed Phap Chu Pagoda. This contains a 10m, 100-tonne bronze Buddha, flanked by two more gilded Buddha figures.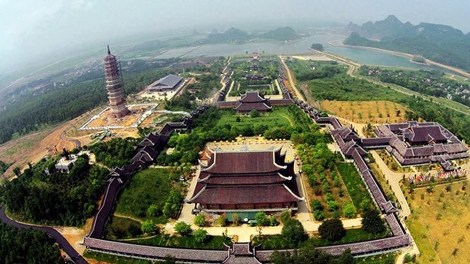 Steps behind lead to a viewpoint, a 13-storey pagoda and a giant Buddha. The compound's central area features more temples, including one showcasing a 36-tonne bell, the largest in Vietnam. Most structures use natural materials, and the complex's impressive bronzework, lacquerwork and stone-carving was crafted by local artisans. Bai Dinh Pagoda is 11km northwest of Ninh Binh, and attracts many Vietnamese visitors.

Bích Động Pagoda is a set of 3 temples carved into a limestone mountain next to Tam Coc. Despite the fact it has been heavily destroyed, the ancient city of Hoa Lu, the former capital of Vietnam during the Dinh and the Le dynasties (1st century), is also worth a visit.

Entrance fees of temples in Ninh Binh:
Hang Mua: 100,000 dong/ person.
Bai Dinh Pagoda: free if you walk; 50,000 dong if you opt to get around with the electric car.
Bích Động Pagoda: free entrance.

4. Van Long Nature Reserve – a place of wetlands and cultural heritage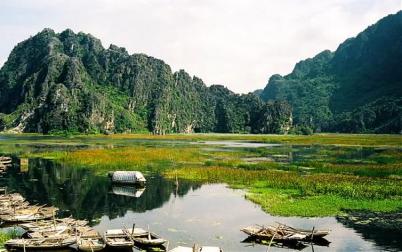 Van Long Nature Reserve is located about 20km from the town of Ninh Binh. It's a place like Tam Coc, where you can ride a boat (90 minutes, maximum two people per boat) in a beautiful hilly area. This nature reserve is a bit less visited than Tam Coc. Van Long has about 30 caves and one of the prettiest is Ca, a 250 meters long cave on the Hoang Quyen mountain. In winter this is the home of migratory birds, flying in from the cold north.

5. Cuc Phuong National Park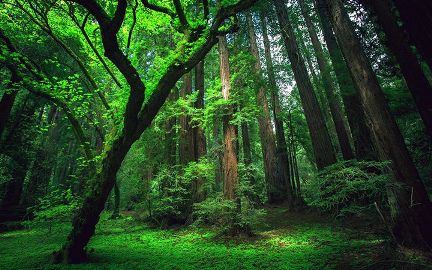 Approximately 30km west of Ninh Binh is the oldest national park of Vietnam – Cuc Phuong. The place is known for its Botanical Garden and the Endangered Primates Rescue Centre, which has around 150 primates from all over Vietnam. It's a great place for biking, hiking and observe a wild range of animals, from birds to an amazing variety of colorful butterflies (from April to June).

Admission to the park is 20,000 dong. The official website of Cuc Phuong national park – Cucphuongtourism.com.

6. Thung Nham Bird Garden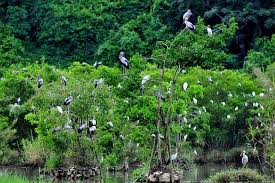 Tucked away in the mountains, this natural park is basically where most of the birds of the region make their nest. If you visit during early morning or late afternoon, you'll see the trees absolutely PACKED with all types of birds. It's a true sight and a wonder of nature.The park also has several caves and hiking trails and is perfect for take a bit of fresh air and go on a relaxing walk. It's just 5km from Tam Coc center.

Admission to the park is 100,000 dong and 20,000 dong for boat trip.

7. Phat Diem Cathedral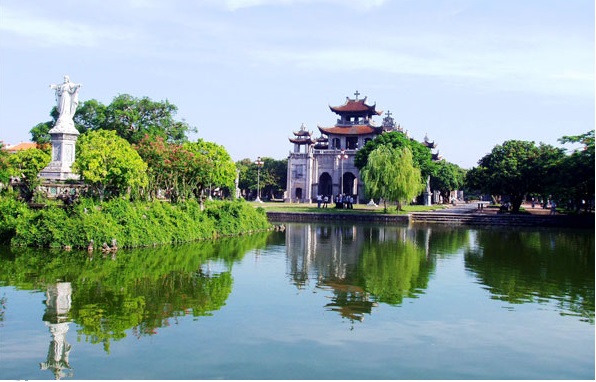 The cathedral's wooden interior boasts a vaulted ceiling supported by massive columns. Above the granite altar Vietnamese-looking cherubs swarm, while Chinese-style clouds drift across the blue ceiling. Beneath are icons of the martyrs slaughtered by Emperor Tu Duc during the anti-Catholic purges in the 1850s. Opposite the cathedral's main doors is the free-standing bell tower, and stone slabs are where mandarins used to observe the Catholic Mass. Between the tower and the cathedral is the tomb of the Vietnamese founder, Father Six.

Many Vietnamese tourists visit, few of them Catholic, but many curious about Christianity. Mass is celebrated daily at 5am and 5pm, when the massive bell is rung.

Best time to visit Ninh Binh
Similar to other parts of northern Vietnam, the weather in Ninh Binh is influenced by tropical monsoon climate, but there are not many changes throughout the year. The weather between the months of November and April is mostly dry and cool, while May to October leads to humid, hot and plenty of rainfall. Additionally, the months of July to September are especially at risk of typhoons. However, the wet season is a great time to visit for nature lovers that are interested in seeing the vivid green colour of the rich fields.

February, March, and April
It's Spring, a lovely time to travel to Ninh Binh. At this time, the weather in Ninh Binh is not too hot or too cold, perfect to get lost in nature. Also, the local celebrate Tet holidays along with other traditional holidays during this time, so you can combine both sightseeing and joining the festivals.
Apart from the scenic spots like Trang An and Tam Coc – Bich Dong, Ninh Binh is also famous for its historical sites and spiritual tourist spots.
Some famous temples that you should visit in spring such as Bich Dong Pagoda, Bai Dinh Pagoda, Duyen Ninh Pagoda.

Late May to early June
Late May to the beginning of June is the best time to travel to Ninh Binh and explore the beautiful golden paddle fields. Moreover, when traveling to Ninh Binh at this time, you can avoid the hot and humid heat of the city.
In Tam Coc, the rice fields put on a bright yellow color with a highlight of green color from the mountains, creating a beautifully natural picture.

The most ideal place to enjoy the golden rice season of Tam Coc is at the Mua Cave (Hang Mua).

November – a trip to Ninh Binh at the end of November is likely to be relatively low on tourist traffic. The ability to explore the region can be so much more enjoyable without the crowds. However, the only issue is likely to relate to the paddy fields. At this time of year, the rice has already been harvested and want is left is brown or yellowish fields. Apart from this, the local scenery is still great and the weather is pleasant and may reach around the 20° C mark during the day, although the evenings can get a little chilly.

Is there a time to avoid?
Apart from the best times to visit Ninh Binh, there are also times when it isn't the most appropriate for boat rides, such as between the months of December and February when the weather has a higher chance of a lot of drizzle. Additionally, the months of July to September are especially at risk of typhoons.
Also, it may not be a good idea to travel just before or after the Tet holiday (Vietnamese New Year) due to heavy crowds.
How to get to Ninh Binh
How to get from Hanoi to Ninh Binh
You can travel from Hanoi to Ninh Binh by train, by bus, by private car or join our daily tours.
- By TRAIN: From Hanoi, you can reach Ninh Binh city by train. A journey from Hanoi to Ninh Binh by train takes approximately 2.15 hours with Vietnam Railways. There are 6 daily trains from Hanoi to Ninh Binh. Departure times are 6:00am, 9:00am, 1:10pm, 2:30pm, 7:30pm and 8:10pm. Ticket price starts from 78,000 VND (3,4 US$) for a hard seat.

Hanoi Railway station is located at 120 Lê Duẩn, Hoàn Kiếm District, Hà Nội. It is about 3km far from Hanoi Old Quarter.
As Ninh Binh train station is located in the center city, you can get to other attractions easily.
Once you arrive at Ninh Binh Railway station, you can take a taxi to get to Tam Coc (6 km away) or Trang An Complex (9.1 km away)

- By BUS: There are frequent buses departing from Hanoi and the journey takes 1.5-2 hours. The local and tourist buses (Hoang Long, Grouptour…) leave from My Dinh, Giap Bat or Nuoc Ngam bus station. The price is from 70,000 VND (3 US$). High-quality cars with modern and new interior equipment are available for 150,000 VND (6.4 US$).

- By PRIVATE CAR: If you travel in a group, you can book a private car to get to Ninh Binh from Hanoi. The price is 70 US$ for 4 seaters, 75 US$ for 7 seaters and 88 US$ for 16 seaters.

- Daily Ninh Binh tours from Hanoi: There are several tour companies offers day tours from Hanoi to Ninh Binh. Most of them will cover Tam Coc – Bich Dong or Trang An. The price starts from 32 US$.

How to get from Hai Phong, Cat Ba Island or Halong Bay to Ninh Binh

There are buses going to Ninh Binh directly from Hai Phong, Cat Ba Island or Halong Bay.
- In Hai Phong the buses leave from Niem Nghia and Cau Rao bus stations.
- In Cat Ba Island you can book a comfortable bus operated by Good Morning Cat Ba or Full Moon Party Hotel. The price is from 320,000 VND (14 US$). Departure time from Cat Ba to Ninh Binh: 8h00, 9h00, 13h00, 15h00 every day (around 4,5 hours).
- In Halong the buses leave from Bai Chay bus station. There is no train connection between Hai Phong, Halong and Ninh Binh.

If you are coming from Da Nang, Hue or Dong Hoi, you also have both the train and bus options. The train going to Hanoi from Da Nang, Hue or Dong Hoi stops in Ninh Binh so shouldn't be too hard to get into one.
Other