SAPA OVERVIEW
Sapa (or Sa Pa) is located in the far northwest. It is home to various tribes such as the Hmong. Brilliant landscapes due to the tiered rice patties they have built into the landscape. Home to a diverse group of hill tribes such as Tay, Red Dao, Black and Flower H'mong, Sapa boasts of ample hill tribe trekking and home stay opportunities. Beyond Sapa, Mount Fansipan (Indochina's highest peak) is great for trekking and exploration.

Top must dos in Sapa
1. Trek or ride a bike to Muong Hoa Valley.
Muong Hoa Valley is a stunningly beautiful stretch of land lying at the bottom of Fansipan's northern flank. There are many green paddy fields stretching to the horizon and dotted with different minority group's villages.
1.1 Cat Cat Village.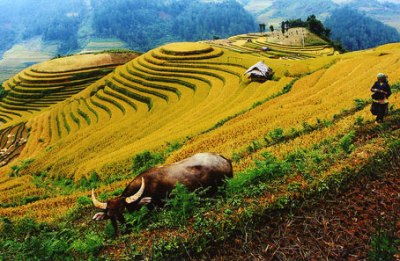 Cat Cat village is a typical village of ethnic minority. The old H'Mong hill tribe village attracts tourists from all over the world for its distinctive culture and unique practices which have been lost recently. It is 3 kilometers far from the city center, located at the foot of Fansipan Mountain and surrounded by the majestic rice terraces.
Tourists will be impressed by the peacefully picturesque sceneries of pristine nature, the traditional cultural and unique original architecture. You can admire a big waterfall on the stream and an old Hydro Electric Power Station built by the French. Moreover, the image of young women in traditional costumes, sitting by looms and making colorful pieces of brocade with designs of flowers, patterns, birds has been a symbol of this mountainous land.
Traditional wood house style is also a featured beauty that should be mentioned. Apart from that, you can try to do weaving fabric, purchase some traditional souvenirs and handicrafts as gifts. The trip to Cat Cat Village will definitely delight you.
1.2 Sin Chai Village and Terraced rice fields.
Located at the foot of Fansipan Mountain, Sin Chai village is one of the best-view spots in Sapa, about 40 minutes walk from the town.
From the village, you will be captivated by the magnificent landscape and spectacular view of the Fansipan Peak. Take a walk around an ethnic minority village and interact with the local people.
If you already make a trip to Muong Hoa Valley, you cannot miss the chance to experience the beauty of terraced rice fields voted as one of seven most beautiful and impressive ones of Asia and the world by readers of the UC's magazine Travel and Leisure.
2. Discover Markets in Sapa.
Visiting the markets in Sapa is a great chance to experience fully traditional culture and lifestyles of ethnic minorities.
There are some bustling fairs such as Muong Khuong market, Bac Ha market, Can Cau market… where take place several trading activities of diversified goods such as brocade, jewelry, weaving products, etc of hill tribes in the mountain area. In addition, you can see the locals in their colorful traditional dress. All of them make Sapa as one of the best places to visit in Vietnam.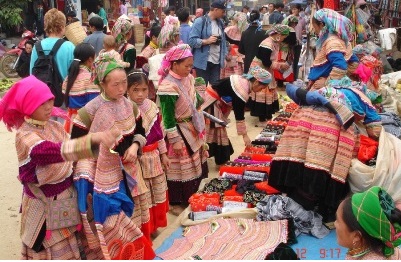 - Muong Khuong is a district of Lao Cai province, it's far from Lao cai 50km and 90 km from Sapa. The Muong Khuong Sunday market is the biggest one of the area.
- Bac Ha is a rural district and the border with China, located about 76 km from Lao Cai and 110km from Sapa. It is the home of the Flower H'Mong people. It is famous for morning Sunday market, which is the largest and most colorful market in the area and attracts throngs of villagers from the surrounding hill tribes.
- Can Cau is a busy market which is held every Saturday. It is 87 km from Lao Cai and 125 km from Sapa. Located just below the Chinese border, it is a colourful, vibrant market where you will encounter minority peoples such as the Flower Hmong (Red Hmong), Nung, Phu La and even Chinese people from across the border. All kinds of goods are traded here, from fabrics to various types of livestock to the powerful local corn wine.
As you would expect, the market starts early (around 7.30am) and closes in the early afternoon so you will want to make an early start to get the most out of the experience.
3. Explore the Silver waterfall or the Love Waterfall.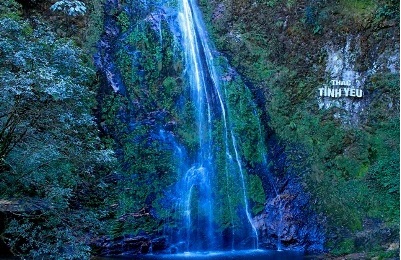 Lying beside National Highway No 4D, Silver water fall is about 12km from Sapa Town's centre. Thanks to water source from the Lo Sui Tong mountain peak, this beautiful waterfall is formed. Being watched from afar, the waterfall is like a white dragon looking down from the sky. You can travel the Silver Waterfall by motor bike or by car for half an hour. It would worth a stopping by with the award of a stunning view of spectacular mountains and the forests in Hoang Lien National Park.
Love Waterfall belongs to San Sa Ho commune, and far away 14 kilometers Southwest from Sapa. Visiting the Love Waterfall, you will have a chance to admire the magnificent and splendid beauty of water and the vivid images of the school of fish jumping up and down.
Along the way to Love Waterfall, you will see numerous brilliant red azalea and lush bamboo forests, a great beauty of nature.
4. Watch beautiful sceneries at Ham Rong Mountain.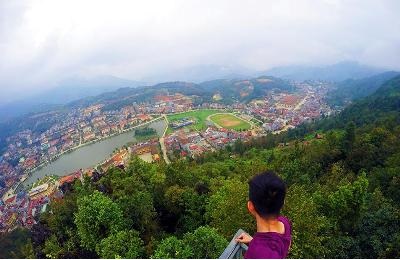 Ham Rong mountain is located in Hoang Lien Son mountain. The tourist can climb on the peak, have a good views and breath the fresh atmosphere.
At the Peak of Ham Rong Mountain, you can see the whole scenery of Sapa from Muong Hoa Valley to villages like Ta Phin Village, hidden in the soft white fog.
How to get to Ham Rong Mountain?
The foot of Ham Rong Mountain is only a short walk from Sapa church. It just takes tourists staying in Sapa town very few minutes to walk from their hotel to Ham Rong Mountain.
5. Trek to Mount Fansipan - the Roof of Indochina.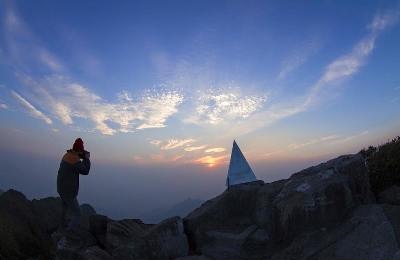 Fansipan is called as "the Roof of Indochina" with the height of 3143m, the highest peak of the Indochina Peninsula. Although the summit of Fansipan is less than half of Mount Everest, this place is a good choice for those who are eager to conquer high peaks and test their muscular power. It would be proud when you conquer a mountain at the tail end of Himalayas.
It's definitely not an easy trek but it promises marvelous views of the Hoang Lien mountain range and pristine natural beauty. Climbers have chance to explore the diverse flora, enjoy beautiful orchids and wild flowers along the way or listen to the musical concert of insects.
Those who can't do this long trekking can go in a cable car. This cable car was opened on February 2, 2016. Measuring 6,282 meters, the Fansipan Sapa has been recognized by the Guinness Book of World Records as the world's longest three-rope cable car route. You can reach the summit of Fansipan in 15 minutes with this cable car. Ticket (up-down) costs 600,000 ($30) for adults, VND 400,000 ($20) for children up to 1.3 meters tall and children below one meter tall can travel for free.
Best time for Fansipan Trekking:
The ideal time to start your trekking is from mid October to mid November and in March, again.
Tips
for Fansipan Trekking:
You need to do exercise intensively at least 1 or 2 weeks before the trip.
- Bring warm clothes!
- Bring as few things in your backpack as possible
- Bring rainwear with separate coat and trousers
- Wear sports shoes that can stick
6. Experience an authentic homestay in Sapa.
Try a Homestay with the locals, it will be the greatest experience. Some homestayes are created for the tourists and travellers, but a genuine homestay of local people is possible.
You will be watching their everyday life and they will prepare very good meals for you. These people can also lead a trek into the surroundings with you. You will find great locations to create really nice photos. Rice terraces, valleys and mountains sometimes shrouded in mist and friendly ethnic minority people. Lots of homestay accommodation is in the Muong Hoa valley, but there are a lot of tourists, and some accommodation is more like a tourist cottage than a genuine local home.
The prices for homestay accommodation is about 10 – 15 USD per person and includes a light trek, food, and 1 night in a village with local people.

Best time to visit Sapa
Best to visit in August and early September for the green and yellow rice patties that are being harvested, or in April when the rice is being planted and various fruits are blossoming in the clear weather.
Other