Halong Bay Overview
Located in the Gulf of Tonkin 170 km from Hanoi, Halong Bay is an impressive collection of nearly 3,000 islands covering an area in excess of 1,500 sq km forming a spectacular seascape of limestone pillars and cliff faces. Many of the forested islands in the Bay have hidden caves and grottoes which are easily explored by boat or kayak.
There are plenty of caves in the bay that can be entered including the Hang Sung Sot, with three mammoth caverns, and the Hang Dao Go, with superbly weird stalagmites and stalactites. For most people though, the highlight is simply cruising amid the karsts and soaking up the changing scenery of pinnacles as you pass by.
A full exploration of Halong Bay takes 2 to 3 days, though a day trip ex Hanoi provides enough time to get a feel for the place. Cat Ba Island, home to Cat Ba National Park, is the largest island in Halong Bay and is actually comprised of 366 islets and islands and is home to a variety of forested zones, coastal mangrove, freshwater swamps, beaches, caves and waterfalls.

Top things to do in Halong Bay
1. Bai Tu Long Bay (The less touristy part of the bay - off the beaten path may be an exaggeration but nevertheless far less busy than Halong Bay itself).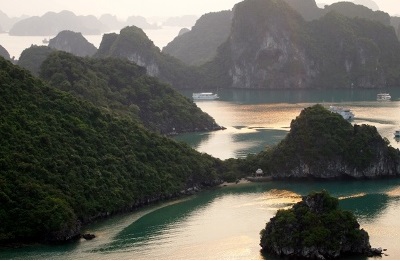 Bai Tu Long Bay is the name of an area located in the east of Halong Bay Vietnam. Although it shares many similar geological characters with Halong Bay, Bai Tu Long Bay is considered as off the beaten tourist track with many deserted and pristine beaches, no less impressive karst mountains. The Bay has a rich biodiversity with two ecosystems: a tropical, moist, evergreen rainforest ecosystem; and a marine and coastal ecosystem.
The area has scarcely seen any tourist development. A large number of guests, through online research, wish to visit the Bai Tu Long Bay because it is much less crowded than Halong Bay. The only disadvantage is that it does not have many grottos except for Thien Canh Son Cave. The nearest place for a visit (Vung Vieng Fishing village) is at around 20 km from tourist port.
Suggestion for
best Halong Bay Cruises
to the less crowed and beautiful Bai Tu Long Bay.
1.1. Thien Canh Son Cave.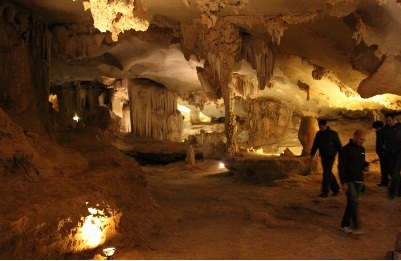 The pathway to Thien Canh Son Cave is set below the forest canopy and a stone cliff, so you have the feeling you are climbing toward heaven.
Inside the cave, it is an ethereal wonderland with naturally carved images resembling a lotus, and a baby elephant. The ceiling of the cave is covered with a shiny 'gem carpet', and numerous sparkling stalactites appear like 'hanging lamps'. Stone statues of seals and flowers create an imaginary dream world.
Thien Canh Son Cave offers a wild and mysterious beauty. This is the reason why we choose to bring guests here – to discover the geological value of the bay, and to enjoy a cozy dinner with family and friends in sparkling candlelight.
1.2 Vung Vieng Fishing village.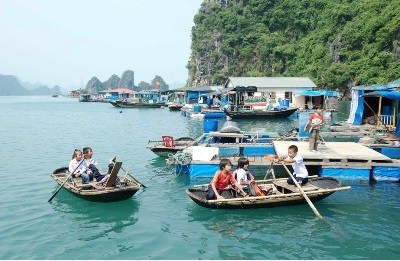 Vung Vieng is located in the heart of Bai Tu Long Bay, 24 km from the mainland. You will not only be immersed in the quiet and peaceful location viewing the charming landscape, and discovering the cultural life of the fishermen but also will be instructed in the fine arts of sailing and casting fish nets.
You will be enchanted by the beauty of the boats, the nets slung over posts in front of the house, the simple but hospitable fishermen, and the small children smiling as they go to school. This idyllic scene shows the traditional character of a floating fishing village.
2. Kayaking in Halong Bay.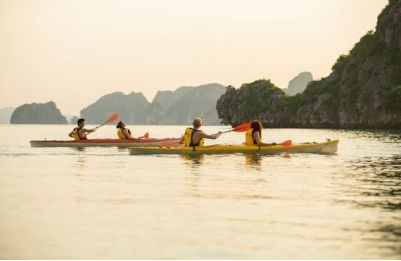 Kayaking is a popular activity in Halong Bay; the islands hold a number of grottoes that can be explored by kayakers. Paddle through islets; visit hidden caves, lagoons, unspoiled beaches and floating fishing villages…Kayaks go where other big boats cannot. Depending on trip length, visitors have different kayak route and time frame.
Luon Grotto is one such cave – travelers can arrange to paddle from Titov Beach to the grotto in Bo Hon Island. Just within the arched entrance, kayakers enter a round lake walled off by limestone cliffs and rimmed with trees.
3. Swimming in Halong Bay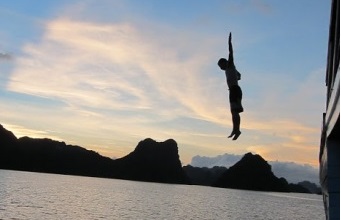 The waters of Ha Long Bay are relatively pleasant to swim in, if one visits during the summer. Cruise guests can snorkel or swim from the boat or soak in the waters of one of the beaches bordering Ha Long Bay.
Bai Chay Beach is an artificial beach close to Ha Long Bay, very accessible from the city. Quan Lan Beach is a little more distant, but is more natural and unspoiled, with white sand and wild pines.
4. Sung Sot Cave, Halong Bay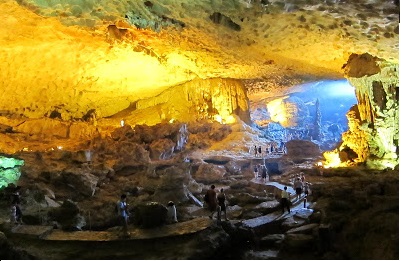 Situated in the centre of the UNESCO-declared World Heritage area, the Sung Sot or Surprise Grotto is on Bo Hon Island, and is one of the finest and widest grottoes of Halong Bay.
Ascending to the grotto, the way is covered by trees and foliage, and consists of great paved stone blocks.Inside, it is partitioned into two chambers; the first one being similar to a wide theatre hall.
Many stalactites hang from the high ceiling, with numerous possible forms and shapes.
5. Thien Cung Cave - Dau Go Cave, Halong Bay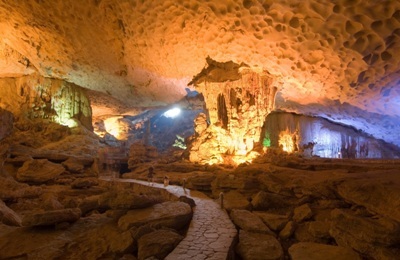 Situated on the south-west side the bay, 4 km from the wharf, Dau Go Island has two caves most often visited by tourists to Ha Long Bay: Hang Dau Go, a graffiti-marked triple chambered-cave that counts as one of the largest in the bay, and Thien Cung Cave, known as "Heaven Palace".
It is about 50 metres above the Halong Bay and is reached by climbing up flights of steep stairs. There is a handrail. The steps in the grottos are poorly lit so care must be taken.
The cave is beautifully illuminated by all the colours of the rainbow. Truly memorable.
6. Titop Beach, Halong Bay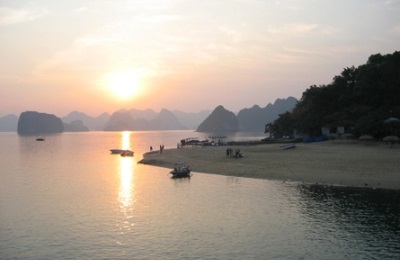 Some 14 km east of Bai Chay is Titop Beach (Titov Beach), which takes the shape of a crescent encompassing the island. Small though it might be, it wins kudos for its quiet and airy atmosphere, its clean and clear waters, as well as its alluring landscape. In 1962, President Ho Chi Minh and the Russian astronaut Germane Ti Top came to this beach. Hence its name Ti Top. At present, there has a bar in the island, which also provides swimming costumes, floats, and lukewarm shower. Fresh water was carried to the island from inland. The Ti Top Beach has become a popular tourist destination.
If you feel boring to stay on boat for the whole time, this will be an interesting part of your trip. This island is not too big but has many activities. You can climb up to the top of the island for taking photos, swimming or playing volleyball on the beach or just lying down and relax. Although it is sometime busy the tourists but it is worth climbing to the top of the island just for the fantastic view.
7. Floating Village on Halong Bay.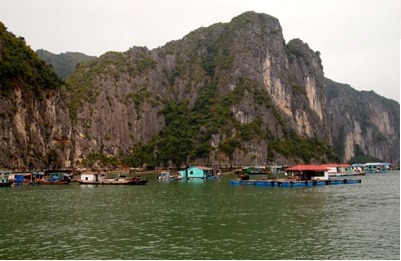 Tours of Halong Bay always include a visit to one of the floating villages in the area. The floating villages are Ba Hang Fishing Village, Cap La Fishing Village, Cua Van Fishing Village, Cong Dam fishing village and Vung Vieng Fishing Village.

On these floating platforms, local fishermen fish for clams, shrimp and crabs. For most travelers, this is less an exercise in seeing how the locals live, more of a retail stop where the fishermen try to interest you in their catch.

8. Trong Mai Islet and Other Animal-Shaped Islands, Halong Bay.
The limestone formations in Halong Bay have been weathered into interesting shapes. Some of the islands recall shapes of animals or famous statesmen such as Con Coc Islet (Toad Islet), Dinh Huong Islet (Incense Burner Islet), Trong Mai Islet (Fighting Cock Rocks), The Yen Ngua (Saddle) Islet ...
Trong Mai Islet (Fighting Cock Rocks) is situated on the southwest side of Halong Bay, 5 km from the tourist wharf near Dinh Huong Islet. In a somewhat large expanse of open sea, the island seems to grow up from the bottom of the deep emerald waters. At sunset, the over 10 m high islet turns bright red.and because the tiny rock "legs" support the heavy rocks above, it appears that one strong wave could throw the large stone blocks into the sea. However, hundreds of millions of years have passed, and the Trong Mai is still there. An image of Trong Mai Islet is the logo of Halong Bay and Vietnam Tourism.
9. Bai tho Moutain (Núi Bài Thơ).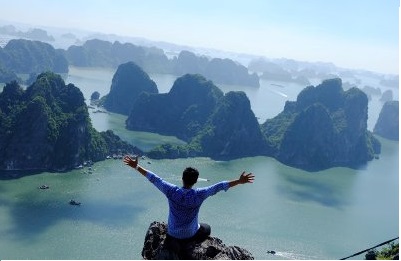 Poem Mountain, where you can get the whole view of Halong Bay and Halong City without needing to book an exorbitant helicopter ride. From a far, the 106-meter-limestone mountain looks like a huge castle with three imposing towers. Its past name Truyen Dang means Light Projecting. This mountain has inspired many poets.
Bai Tho Mountain lies right in the city center, but the entrance to the staircase that leads to the mountain top is hidden in a small corner with no sign whatsoever. This entrance is situated on Hang Noi St. (Đường Hàng Nồi) , and the best way to find it is to go to this street and ask local people.
Climbing this mountain is not easy, but not too hard. After around 30 minutes you'll be able to reach the top, where the awe-inspiring view of Halong Bay and Halong city will amaze you. There is not trash bin on the way leading to the mountain top, so please bring back your trash after climbing.

Best time to visit Halong Bay?
It is possible for visits to Halong Bay year-round. And winter months (from October to April) are said to be the best time although in months of December, January and February, the weather is often cool, drizzly and overcast with low visibility. During summer months (May to September), tropical storms are frequent and tourist boats may have to alter the itineraries depending on weather condition.

Other