Despite a reputation for backpacker hedonism, Sihanoukville's real appeal lies in its beaches. On nearby islands like Koh Rong and Koh Rong Samloem, resorts are creating a laid-back beach-bungalow vibe. On the mainland, it's only 5km from Sihanoukville's grittier central beach, Occheuteal, to Otres Beach, mellow and sublime despite the long-looming threat of development. More central Victory Beach, Independence Beach, Sokha Beach, and even Occheuteal and backpacker favourite Serendipity Beach all have their charms.
1. Otres Beach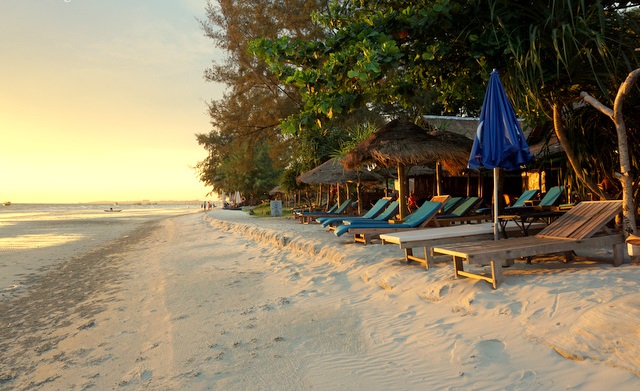 Past the southern end of Ochheuteal Beach, beyond the Phnom Som Nak Sdach (Hill of the King's Palace) headland, lies stunning Otres Beach, a seemingly infinite strip of casuarinas that gives southern Thailand a run for its money. Although no longer the empty stretch of sand it once was, Otres has cleaner water and is more relaxed than anything in Sihanoukville proper, and is lengthy enough that finding a patch to call your own is not a challenge…just walk south.
Long eyed-up by large-scale developers, Otres has so far managed to shun major construction work, and DIY development has blossomed with dozens of small-scale independent resorts and beach-bungalow places in the area, including a handful of upmarket boutique hotels. Otres is split into three distinct sections: Otres 1 is the first and busiest stretch, while about 2km south is quieter Otres 2, separated by a slated resort development currently known as 'Long Beach'. Inland lies laid-back Otres Village, an up-and-coming estuary area.
Otres Beach is about 5km south of the Serendipity area. It's a US$2 moto ride (remork US$5) to get here (more at night). If going it alone, follow the road southeast along the beach and skirt the hill by heading inland on the inviting tarmac. From the city centre, you can take Omui St from Psar Leu east out of town for 5km.
2. Sokha Beach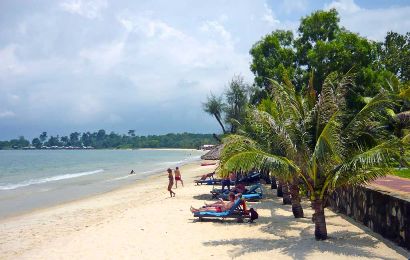 Midway between Independence and Serendipity Beaches lies Sihanoukville's prettiest stretch of sand, 1.5km-long Sokha Beach. Its fine, silicon-like sand squeaks loudly underfoot. The tiny eastern end of Sokha Beach is open to the public and is rarely crowded. The rest is part of the exclusive Sokha Beach Resort. Tourists are welcome to enjoy the sand near the resort but are expected to buy something to drink or eat. You might even duck into the resort to use the pool (US$5).
Serendipity Beach
The rocky strip at the northwestern end of Ochheuteal Beach is known as Serendipity Beach. It has a some resort bar-restaurants where waves lap a few metres from the tables, providing a romantic backdrop.
3. Ochheuteal Beach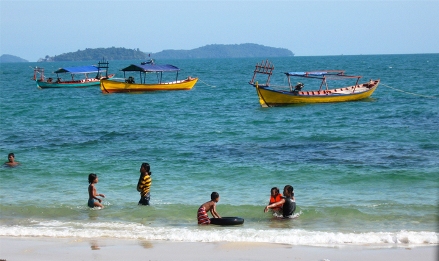 This 4km-long beach is by far Sihanoukville's most popular. The rocky strip at the northwestern end is a happy, easy-going travellers' hang-out known as Serendipity Beach. At the atmospheric resort bar-restaurants here, waves lap just a few metres from the tables – it's romantic, especially at sundown. East of the pier, a string of beach-bars rim the white sand. This is a good place for happy hour, but during the day becomes packed with vendors and beggars.
Escape the mayhem by walking 2km to 3km down to the much cleaner southern section of the beach. The character of Ochheuteal will change dramatically if local authorities implement a plan to evict all beachfront businesses, with any new development required to occur at least 50m from the shoreline. Plans also call for high-end resorts to be built at the isolated southern end.
5. Kbal Chhay Waterfall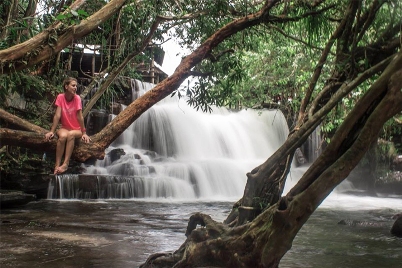 Kbal Chhay Waterfall is seven kilometers away from the center of Sihanoukville. The trip in a tuk-tuk to get there is reasonably priced, so it is worth venturing out of the city to admire this serene natural spot. If you visit after the monsoon period the waterfall has a spectacularly strong flow.
Surrounded by tall green trees this is the perfect environment for witnessing Cambodia's tropical jungle-like geography.
6. Wat Leu Temple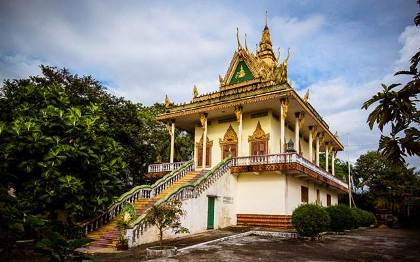 Cambodia is known for its Buddhist Wats or temples. They are an absolute must-see when you visit the country. The temples are stylistically diverse, ranging from the green-tinged stone of Angkor Wat to the colorful pointed roofs of temples such as Wat Leu, which resembles a pagoda. Religiously significant and intriguing in its architecture, Wat Leu has several features to note, such as the three-headed carved white elephant, its gold decorations and a huge black statue of the Lord Buddha. This is an attraction representative of Cambodia's rich spiritual culture.
7. Water Sports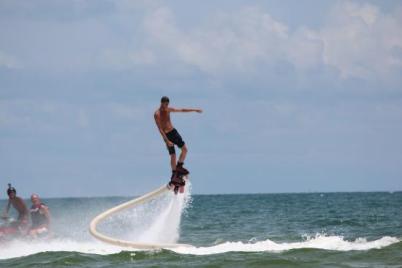 Sihanoukville is an ideal location for a number of water sports activities and adventures, essential accomplishments for any beach holiday. Submerge yourself in the ocean and get a good view of the coral and sea creatures lurking in Sihanoukville's depths on a scuba diving trip. If diving is too extreme, many places on the beach offer snorkeling trips, fun for having a flipper around. Other water sports activities include kayaking, windsurfing, and for a slightly higher price, you can practice kitesurfing. All of these activities make for a thrilling day by the sea.
8. Khmer Cookery Class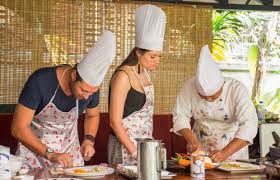 Learning how to make culinary Khmer specialties is an essential activity for any lover of Southeast Asian cuisine. With experienced chefs giving clear instructions, the use of authentic ingredients and the opportunity to take recipe cards home so that you can replicate the experience, a traditional Khmer cookery class is an original and rewarding way to spend the day. Among the range of dishes, visitors can learn to cook. A few that stand out are the Banana Flower Salad, Lok Lac, and Spring rolls.
9. Starfish Bakery and Café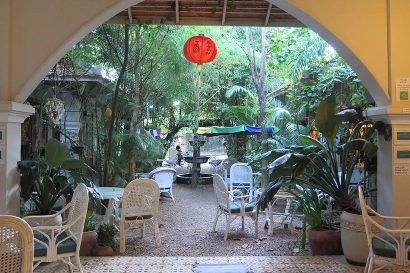 An ethical NGO supporting the local community, the Starfish Bakery offers more than just freshly baked produce and revitalizing cups of coffee. Starfish gives employment opportunities to disabled people as well as diligently working on projects to improve healthcare, housing and business in the local areas. Support by donating directly to their charity or by purchasing their excellently baked goods expertly prepared thanks to the experience passed on by the previous French occupation of Cambodia.
10. Shopping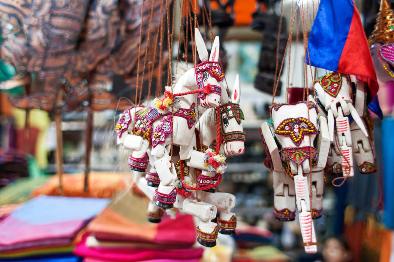 With a bounty of handcrafted goods and local food to purchase, Sihanoukville provides many a 'shopportunity'. As a beach resort, it offers lots of places selling beachwear, sarongs, and shoes. Visitors can also expect a wide variety of jewelry and souvenir shops. There are also slightly more expensive branded shops around in which to buy clothing. Starfish Bakery and Café has its own little gift shop where they sell sustainable bags made from recycled sacks. The gems, however, are to be found in the markets. Sihanoukville's night market and Otres village's weekend market are ones to take note of. Join the local culture of buying bags of fresh produce and enjoy a picnic of dragon fruit and lychees down on the shoreline.
From November to February is the best time to visit Sihanoukville. In this period, you enjoy the warm and breezy climate. Particularly, in December and January, the destination is featured with the pleasant wind as well as the blue sky that is ideal for traveling and photographing.