1. National Museum of Cambodia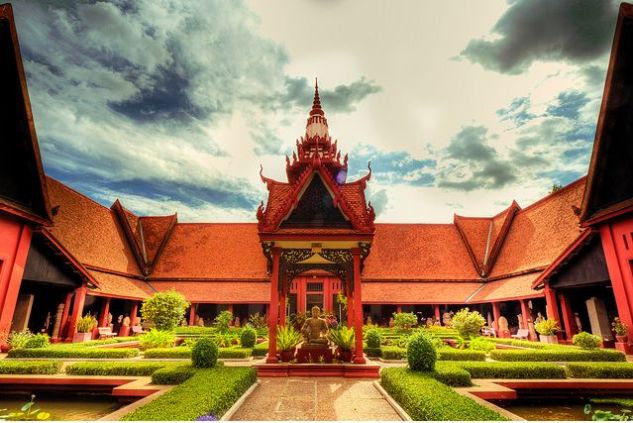 Located just north of the Royal Palace, the National Museum of Cambodia is housed in a graceful terracotta structure of traditional design (built from 1917 to 1920), with an inviting courtyard garden. The museum is home to the world's finest collection of Khmer sculpture: a millennium's worth and more of masterful Khmer design. Various rooms display a range of rare statues, lingas and other items, including the Leper King from Siem Reap and a giant 11th century bronze Vishnu.
Note that visitors are not allowed to photograph the collection, only the central courtyard.
2. Royal Palace and Silver Pagoda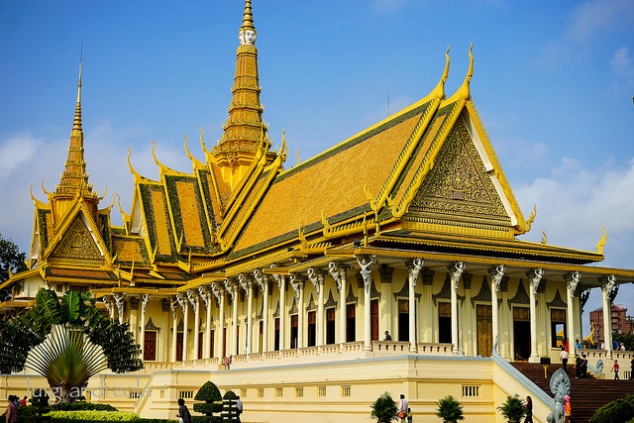 The Royal Palace serves as the King's official residence, a venue for court ceremony and a symbol of the Kingdom. However, some sections are open to the public and visitors can stroll through the manicured gardens and discover the ornate temples, libraries and galleries inside the palace grounds. The palace compound is also home to the Silver Pagoda, a prominent temple that takes up a key place on the riverside and is named for its gleaming silver floor. Guests are reminded to dress respectfully by keeping shoulders and knees covered.
3. Tuol Sleng Genocide Museum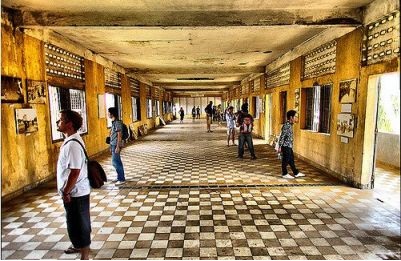 This former high school in central Phnom Penh makes for a sobering visit, due to the horrific role it played during the Khmer Rouge regime. Back then, the former school was transformed into a political prisoners' camp known as Security Prison 21 (S-21). Only seven prisoners survived, while many others were tortured and killed there, or sent to their deaths at Choeung Ek. Much of the site has been left as it was discovered in 1979 when the Vietnamese army liberated Phnom Penh. The blood-splattered walls, tiny brick cells and abandoned torture tools offer an important insight into the brutal regime.
4. Killing Fields of Choeung Ek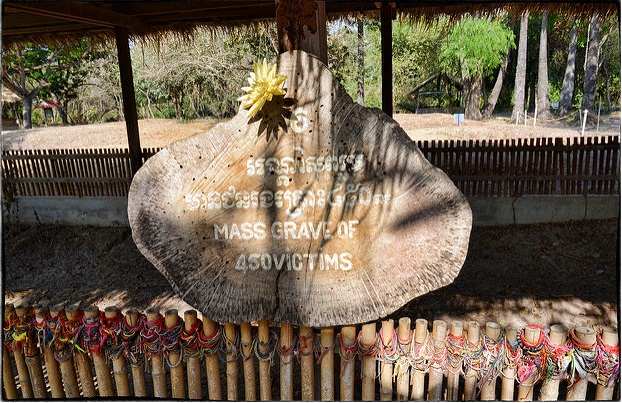 Between 1975 and 1978 about 17,000 men, women, children and infants who had been detained and tortured at S-21 were transported to the extermination camp of Choeung Ek. It is a peaceful place today, where visitors can learn of the horrors that unfolded here decades ago.
Admission to the Killing Fields includes an excellent audio tour, available in several languages.
The remains of 8985 people, many of whom were bound and blindfolded, were exhumed in 1980 from mass graves in this one-time longan orchard; 43 of the 129 communal graves here have been left untouched. Fragments of human bone and bits of cloth are scattered around the disinterred pits. More than 8000 skulls, arranged by sex and age, are visible behind the clear glass panels of the Memorial Stupa, which was erected in 1988.
The site is well signposted in English about 7.5km south of the city limits. Figure on about US$10 for a remork-moto (tuk-tuk; drivers may ask for more) for a half day. A shuttle-bus tour is available with Phnom Penh Hop On Hop Off, which includes hotel pick-up from 8am in the morning or 1.30pm in the afternoon.
5. Throne Hall
Historic Building in Phnom Penh
The main attraction in the palace compound is the Throne Hall. Topped by a 59m-high tower inspired by the Bayon at Angkor, it was inaugurated in 1919 by King Sisowath. The Throne Hall is used for coronations and ceremonies such as the presentation of credentials by diplomats. Many of the items once displayed here were destroyed by the Khmer Rouge.
6. Wat Phnom Temple
Buddhist Temple in Phnom Penh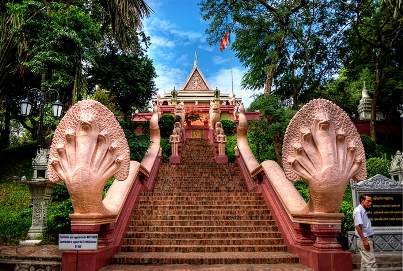 Set on top of a 27m-high tree-covered knoll, Wat Phnom is on the only 'hill' in town. According to legend, the first pagoda on this site was erected in 1372 to house four statues of Buddha deposited here by the waters of the Mekong River and discovered by Lady Penh. Hence the city name Phnom Penh or 'hill of Penh'.
7. Russian Market
Market in Phnom Penh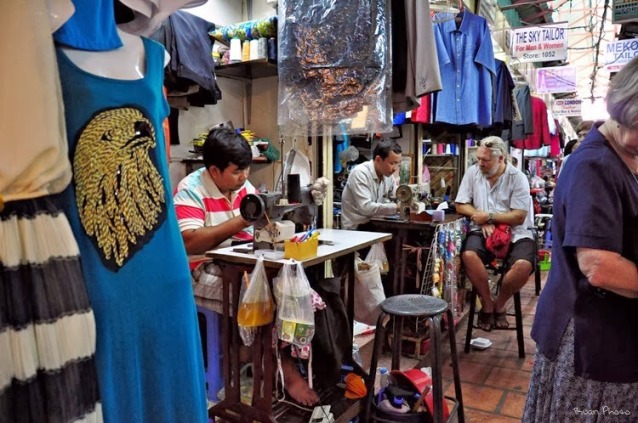 This sweltering bazaar is the one market all visitors should come to at least once during a trip to Phnom Penh. It is the place to shop for souvenirs and discounted name-brand clothing. We can't vouch for the authenticity of everything, but along with plenty of knock-offs you'll find genuine articles stitched in local factories.
You'll pay less than one-third of the price back home for brands like Banana Republic, Billabong, Calvin Klein, Colombia, Gap and Next. The Russian Market, so-called by foreigners because the predominantly Russian expat population shopped here in the 1980s, also has a large range of handicrafts and antiquities (many fake), including miniature Buddhas, woodcarvings, betel-nut boxes, silks, silver jewellery, musical instruments and so on. Bargain hard, as hundreds of tourists pass through here every day. There are some good food stalls in the Russian Market if you are feeling peckish.
8. The Central Market or Psar Thmei Market
Top choice market in Phnom Penh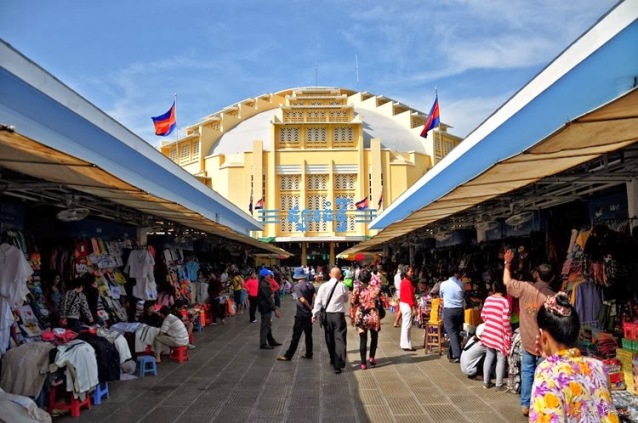 A landmark building in the capital, the art-deco Psar Thmei (literally 'New Market') is often called the Central Market, a reference to its location and size. The huge domed hall resembles a Babylonian ziggurat and some claim it ranks as one of the 10 largest domes in the world.
The design allows for maximum ventilation, and even on a sweltering day the central hall is cool and airy. The market was recently renovated with French government assistance and is in good shape. The market has four wings filled with stalls selling gold and silver jewellery, antique coins, dodgy watches, clothing and other such items. For photographers, the fresh-food section affords many opportunities. For a local lunch, there are a host of food stalls located on the western side, which faces Monivong Blvd.
Psar Thmei is undoubtedly the best market for browsing. However, it has a reputation among Cambodians for overcharging on most products.
9. PHNOM TAMAO WILDLIFE RESCUE CENTER
Park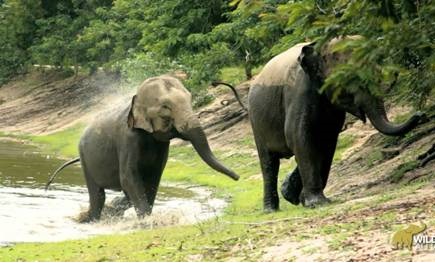 NGO Wildlife Alliance works tirelessly to rescue, rehabilitate and conserve the country's swathe of endangered and rare wildlife from the clutches of illegal traffickers and poachers. Rescued animals are taken to Phnom Tamao Wildlife Rescue Center, where they are nursed back to health before being released back into the wild. The centre's day in the life of a zookeeper programme gives guests the chance to get up close and personal to the wildlife, with all funds being pumped back into the project. Guests can hand-feed elephants, enter the tigers' private den, feed baby macaques and get within a whisker of leopards, gibbons and otters.